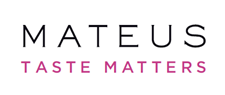 Mateus is proud to introduce a new range of wines based on two taste expressions. Delightfully dry defines Mateus Baga and Shiraz dry rosé and Fabulously Fruity defines Mateus Aragonês semi-dry rosé. Both are presented in new premium Bordeaux bottles, whose contemporary labels clearly reveal each wine's taste profile.
Rosé wine specialist Mateus is launching a new varietal range of wines made from indigenous Portuguese Baga, complemented by the internationally recognised Shiraz, and Aragonês grape varieties. This range explores a sensory approach, using the front label to communicate the style of each wine, revealing their taste profiles. Mateus Baga and Shiraz is a dry rosé vividly described as "intense and fresh with aromas of raspberry and cherry with a delightfully dry finish", whereas Mateus Aragonês is a semi-dry rosé full of "rich summer berries with a delicate fresh palette and a fabulously fruity finish".
Mateus Baga and Shiraz aims to appeal to an educated audience looking for a drier and arguably more sophisticated, refreshing rosé wine. Light and easy drinking, Mateus Aragonês has been designed specifically to appeal to younger wine consumers' preferences by offering a semi-dry rosé with the taste, colour and aroma to suit this audience.
These exciting new wines, backed by more than 70 years of Mateus expertise and state-of-the-art technology, are brought to consumers in new, clear Bordeaux bottles, which give these new Mateus varietals a contemporary look and feel.
Mateus. Taste Matters.