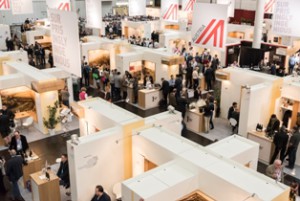 It's happening again this year in springtime: anybody in the world of wine who wishes to be noticed will be present from 13–15 March at ProWein in Düsseldorf. As was the case in 2015, Austria will once more have Hall 17 to itself, fielding more than 360 exhibitors. Hours of operation will be adjusted slightly this year, from 10.00 am – 07.00 pm, in order to spare more than 50,000 expected trade and press visitors the inconvenience of coping with morning and evening rush-hour traffic and overcrowded trams – so that everybody can begin their visit to the fair in a more relaxed frame of mind.
Hall 17 – Austria's presence is optimised
The hot topic of 2015 was the relocation of the Austrian winegrowers to Hall 17 – this is equally accessible from the North Entrance through Hall 9 (or through the 'tube'), from the East Entrance through Halls 15 and 16, as well as directly through South Entrance II, where this year the Tasting Zone will function as a magnet for visitors. The welcoming and attractive bright wooden exhibition booths will not only offer generous space for presentation of the wines, but provide comfortable niches as well, in which merchants and press can sit and chat with growers in an easy and natural atmosphere. Here the interior environment is sure to present an oasis of calm amid the hectic bustle of a day at the wine fair. One feature new for 2016 will be the optimised signage system in Hall 17. Ceiling-hangers will show the way to the individual Austrian federal states (generic wine production zones), with designations corresponding to the colour-codes used in all of the floor plans (Niederösterreich/Lower Austria: yellow, Wien/Vienna: blue, Burgenland: red, Steiermark/Styria: green), offering easy orientation. Additionally, every winegrower's booth will feature slide-in signs on the side facing the isle, showing the number of the booth and the name of the specific wine-growing region.
Facts and figures
The Austrian showcase at the ProWein is organized annually by the Wirtschaftskammer Österreich (Austrian Economic Chambers) in cooperation with the Austrian Wine Marketing Board. In the last ten years, the number of Austrian exhibitors at ProWein has grown from 220 to 367. Niederösterreich (Lower Austria – Wachau, Kremstal, Kamptal, Traisental, Wagram, Weinviertel, Carnuntum and Thermenregion) naturally fields the strongest contingent with 190 wine estates, followed by Burgenland (Neusiedlersee, Leithaberg, Mittelburgenland, Eisenberg) with 130, Steiermark with 30 and Wien with a solid 10 producers. All further Austrian exhibitors are categorised in other sectors (spirits, miscellaneous).
Integrated and focused commitment to Austrian heritage
Austria is renowned not only for its excellent cool-climate wines, but also for its memorable conviviality and vibrant culinary arts. Since the Austrian Restaurant operated in Hall 17 last year by chef Franz Gruber ("Gruber's Restaurant", Cologne) turned out to be such a draw for visitors, ProWein 2016 will see the restaurant's physical space expanded, serving Austrian delicacies and Heurigen favourites – this is sure to whet visitors' appetites for spending a holiday in Austria!
The Austrian Wine Marketing Board (AWMB) among the growers
As has been their custom, the booth of the AWMB will be located in the middle of the exhibiting growers in Hall 17 (Stand C30). Here, wide-ranging informative materials will be available, along with a detailed register of estates presenting their wines. Additionally, each day will offer exciting themed tastings and presentations. And of course Austria Wine Marketing's executive board and the Head Managers will all be available, at the disposal of visitors for individual consultations.