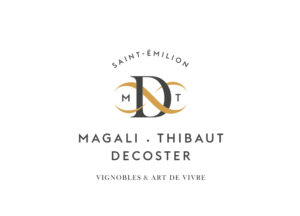 Magali and Thibaut Decoster are the new wine growers at Château de Candale.
Faithful to Saint-Emilion, this new venture joins Clos des Jacobins and Château la Commanderie, two famous Saint-Emilion classified growths, where they are already established.
Château de Candale's 13 hectares (32 acres) of Saint-Emilion Grand Cru mainly cover
Saint-Emilion's famous south-facing slopes, where the sun-drenched clay-limestone soils are madeup of numerous micro-plots and a real diversity of landscape and terroir.
The estate, from which Château de Candale and Château Roc de Candale are produced, alsofeatures the restaurant, l'Atelier de Candale (Bib Gourmand Michelin), a venue for bothgastronomy and wine-related encounters.
The chef Cyrille Gallard has run the establishment since 2012 and will remain with Magali andThibaut Decoster, who are the new hosts of this already renowned restaurant.
" Saint-Emilion is famous for its great wines and outstanding terroirs. The diversity of its vineyards clinging toslopes overlooking the Dordogne River and basking in the Aquitaine sunshine is unique. The medieval villagewith its sometimes mysterious architecture preserves the warm, subtle colours of the limestone rock on whichit is built.
Saint-Emilion is all about the passion of those who live there and of the millions of tourists who come to visitit to discover its varied terroirs, complex wines, gastronomy and to meet new and old friends.
This is why we have chosen Château de Candale for the quality of its wines and its terroirs. Located on thesouth-facing slope of the village, the vineyards extend from those of the more remarkable First ClassifiedGrowths of the appellation.
The outstanding location and the restaurant will now allow us to structure the reception of visitors aroundthe three vineyards, offering circuits that combine terroir diversity, typicity of wines and food pairings withan authentic art de vivre…"
With three vineyards, a restaurant, unique wine tourism routes and the creation of a family wine shopalso selling Cyrille Gallard's local products, Magali and Thibaut, who live at Clos des Jacobins withtheir children, have sought to combine "vignobles & art de vivre".