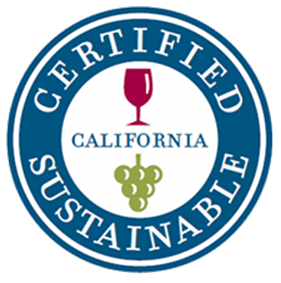 New Logo Available as Participation Grows

In 2010, the California Sustainable Winegrowing Alliance (CSWA) launched CERTIFIED SUSTAINABLE, a certification option for growers and vintners providing independent third-party verification of practices. The certification program, developed over a three-year period with industry and stakeholder input, verifies that stringent vineyard and winery requirements such as soil health, water, energy, habitat and other key sustainability areas are addressed.
The program was updated in 2017 to allow use of a new logo on labels for wine made in certified wineries with 85% or more of grapes from certified vineyards (including CERTIFIED SUSTAINABLE, SIP and Lodi Rules) and 100% from California. Updates to the program require meeting an overall score threshold, measuring and tracking sustainability performance metrics, and complying with restrictions on crop protection materials. The first wines to feature the logo will likely appear in the market beginning in 2018.
As of August 2017, 128 wineries producing over 78% of California production (210 million cases) and 930 vineyards farming 130,000 acres (about 21% of statewide acreage) are California CERTIFIED SUSTAINABLE. Another 10% of California vineyard acreage is certified to other programs in the state.
To read more about sustainable winegrowing requirements for certification, visit the CSWA Certification page.
For a list of current CERTIFIED SUSTAINABLE vineyards and wineries click here.