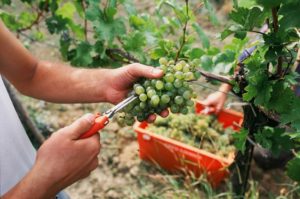 Four new white wine varieties are now permitted for Qualitätswein (quality wine) in Austria, via a collective amendment to Austrian wine law. Three of these are fungus-resistant new crossings known as PIWIs*
New additions to the Muskateller Qualitätswein family
Blütenmuskateller, Goldmuskateller, Muscaris and Souvignier Gris – these four white grape types were elevated to the status of Qualitätswein varieties during the summer by means of a collective amendment to Austrian wine law. This increases the total of Qualitätswein varieties in Austria to forty. The inclusion of the Goldmuskateller (Moscato Giallo) takes into account that, along with Muskat Ottonel and Gelber or Roter Muskateller, the Goldmuskateller, which is less susceptible to rot, also shows promise.
PIWI varieties: ecological benefits through resistance
Blütenmuskateller, Muscaris, and Souvignier Gris are three of the fungus-resistant grape varieties known as PIWIs. In addition to the two red PIWI varieties Rathay and Roesler, this is the first time that white PIWI wine varieties have been approved for the production of Qualitätswein in Austria. PIWI varieties are painstakingly developed new crossings with enhanced resistance to fungal diseases such as powdery mildew and downy mildew (Oidium and Peronospora). This offers a number of ecological advantages: reduction of applied pesticides means fewer tractor passages through a vineyard, which in turn reduces pollutant emissions and minimises compacting of the soil. For these reasons, winegrowers who practice organic or sustainable viticulture are steadily showing increasing interest in PIWIs. At present, records are kept only for sites planted to Rathay and Roesler, which encompass 273 hectares and are growing in area.
Top wines from Austria
In Austria, where more than thirteen per cent of all vineyards are already being cultivated organically, PIWI varieties are now seen growing in all wine regions. Winegrowers have been working with them for years, especially in the Steiermark with its high levels of annual rainfall. Throughout Austria, the new varieties are yielding impressive wines, which do very well at international organic and PIWI-wine-award events.
A distinctive flavour profile with recognisable references
As a rule, PIWI varieties have their own unique flavour profiles. However, these are usually oriented to those of well-known grape varieties, allowing consumers to approach the new wines with a greater measure of comfort. While Souvignier Gris is reminiscent of Pinot Gris, Blütenmuskateller and Muscaris show pronounced nutmeg and citrus notes. Rathay is popular as a blending partner because of its firm body and attractive tannins, whereas Roesler with its spicy dark fruit is vinified more and more often as a monovarietal wine.
* (PIWI: Pi = Pilz = fungus; wi = widerstandsfähig = resistant)
Facts
4 new Qualitätswein grape varieties:
PIWI-varieties:
New crossings with enhanced resistance against fungal diseases

For this reason especially well suited to organic and sustainable viticulture
International successes
of Austrian PIWI-wines at organic & PIWI-wine awards
Example illustration of a wine harvest, © AWMB/Committee Kamptal