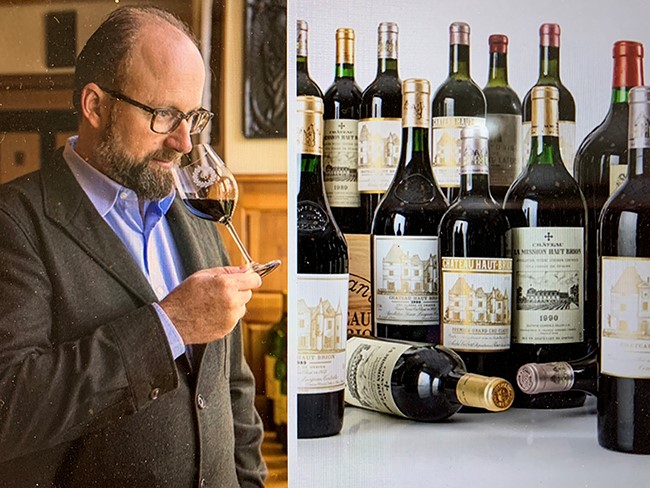 Sotheby's to Offer 4,200+ Bottles from the Personal Cellars of H.R.H. Prince Robert de Luxembourg, his Friends & Family
The Largest Quantity of Wine Direct from Château Cellars Ever to be Offered for Charity To benefit The PolG Foundation and thereby help Cure Mitochondrial-Related Conditions
The full scope of content of the Personal Cellars of Prince Robert of Luxembourg, his family and friends, one of the greatest offerings of wines to come to auction, is unveiled today, with the release of the online catalogue.
https://www.sothebys.com/en/buy/auction/2022/the-personal-cellars-of-h-r-h-prince-robert-de-luxembourg-family-and-friends-benefitting-the-polg-foundation?locale=en&lotFilter=AllLots
The decision for Prince Robert of Luxembourg to empty his personal cellar, to offer a selection of rare bottles, was made with a singular mission in mind: to raise awareness and funds for The PolG Foundation, created by Prince Robert and his wife Princess Julie to find treatments, and ultimately a cure, for mitochondrial diseases. The wines in the sale have been donated to The PolG Foundation by three distinct groups: Prince Robert; his family; and his friends, who were inspired to do the same. The selection features a number of very rare vintages which are seldom offered, dating back as far as 1906. Together, the 818 lots, comprising more than 4,200 bottles, carry a combined estimate in the region of $2.8 million, with estimates ranging from $150 upwards to $90,000. Outside the annual Hospices de Beaune sale – the world's oldest and most renowned charity wine auction – this is the largest quantity and highest value of wines that come directly from storage in château cellars, ever to be
offered in a charity wine auction.
The sale, which will take place at Sotheby's in New York on 21 May, is intensely personal for Prince Robert and Julie. In 2016, their youngest son Frederik was diagnosed with a rare mitochondrial disease, a genetic disorder that robs the body's cells of energy, in turn causing organ dysfunction and failure. It turned the family's world upside down, but they decided to concentrate all their efforts on finding a cure, not only for Frederik, but also for all those suffering from the disease. The nonprofit foundation they created has become a leading research hub, whose impact will in time benefit millions of people facing mitochondrial-related conditions, from Parkinson's and Alzheimer's, to autism and some forms of cancer.
Prince Robert of Luxembourg said: "When I first entertained the idea of emptying out my cellar in this rather public fashion, there was not a minute of hesitation from my family. Soon after we were joined by other members of my family and our family company. In parallel, some of the very finest wine producers in France heard about our sale and donated
some truly exceptional lots. Thanks to everyone's generosity, we have now succeeded in putting together one of the very finest collections of wine that Sotheby's has ever brought to auction. Any bidders who are lucky enough to win one – or a number – of these lots will be certain to know that they will enjoy some of the very fines and rarest wines in the world. All
the while, they will also be supporting a cause that will ultimately help all of us, as we come to benefit from an acceleration in mitochondrial research. This truly historic sale provides the most wonderful springboard for us to face this challenge and aim to seize the opportunity of uncovering a cure for PolG."
Jamie Ritchie, Worldwide Chairman, Sotheby's Wine, said: "This auction combines a selection of very rare wines, that come with impeccable provenance and condition, with the generosity and philanthropy of a dedicated part of the wine community who are helping to fund a cure for PolG and other mitochondrial conditions. Now, it is the time for buyers to show their generosity in bidding, buying and enjoying all of these wines, while supporting a cause that will help so many people in the future."
Prince Robert's personal cellar includes the opportunity to acquire historic vintages of Château Haut Brion with bottles from 1908, 1918 and 1919, then the decades of the 1920s, 1930s, 1940s – the war years, when the bottles are in pale blue glass – and on to more recent vintages. It includes the exceptional 1924 and legendary 1926 in Jeroboams. The sale also includes the most impressive range of very rare Magnums of Haut Brion Blanc, La Mission HautBrion and Laville Haut-Brion ever to come to auction.
As Chairman and CEO of Domaine Clarence Dillon, the family wine business, Prince Robert oversees Châteaux Haut-Brion (his great-grandfather Clarence Dillon – an American Investment banker – purchased the estate in 1935) and La Mission Haut-Brion – wine estates with exalted histories – in addition to Château Quintus, Clarendelle (a line of branded Bordeaux wines founded by Prince Robert), Restaurant Le Clarence, an exceptional ** Michelin Restaurant in Paris, La Cave du Château (Paris' most illustrious wine shop, with an additional outlet in Bordeaux), and Clarence Dillon Wines (a Bordeaux Fine Wine Merchant / Negociant).
The Board of Domaine Clarence Dillon, acting without Prince Robert's participation, has made exceptional donations to The PolG Foundation, with each item coming direct from each of the château's cellars. Highlights include a Bordeaux experience for six at Domaine Clarence Dillon (est. $10,000- 15,000), a Paris night out for four at La Cave du Château and Le Clarence (est.
$10,000-15,000), a Domaine Clarence Dillon 75th Anniversary Console – designed and commissioned by Prince Robert, to celebrate the first eight decades of the Dillon family presence at Château Haut-Brion, and crafted by Viscount Linley and his team in London (est. $90,000-130,000), and rare 12- litre bottles of Haut Brion and La Mission Haut-Brion from the highly prized 2009 vintage .
The "PFV", an international association of twelve of the leading family-owned European wineries, of which Domaine Clarence Dillon is one of the members, has also shown its support with donations from the other PFV members. This offering includes a PFV Haute Couture Case offered by all members (est. $75,000-150,000), and individual donations by Marchesi Antinori, Domaine Clarence Dillon, Joseph Drouhin, Famille Perrin, Champagne Pol Roger, Baron Philippe de Rothschild, Sassicaia, Symington Family Estates, Familia Torres, and Vega Sicilia.
In addition, generous donations have been made by Chateau Angelus, Champagne Billecart Salmon, Christian Seely & AXA Millésimes, Domaine Marcel Deiss, Edmond Guerrand-Hermes, Louis Jadot, Château Montrose, Petrus, Hazel & Marvin Shanken, and Château Smith Haut Lafitte.