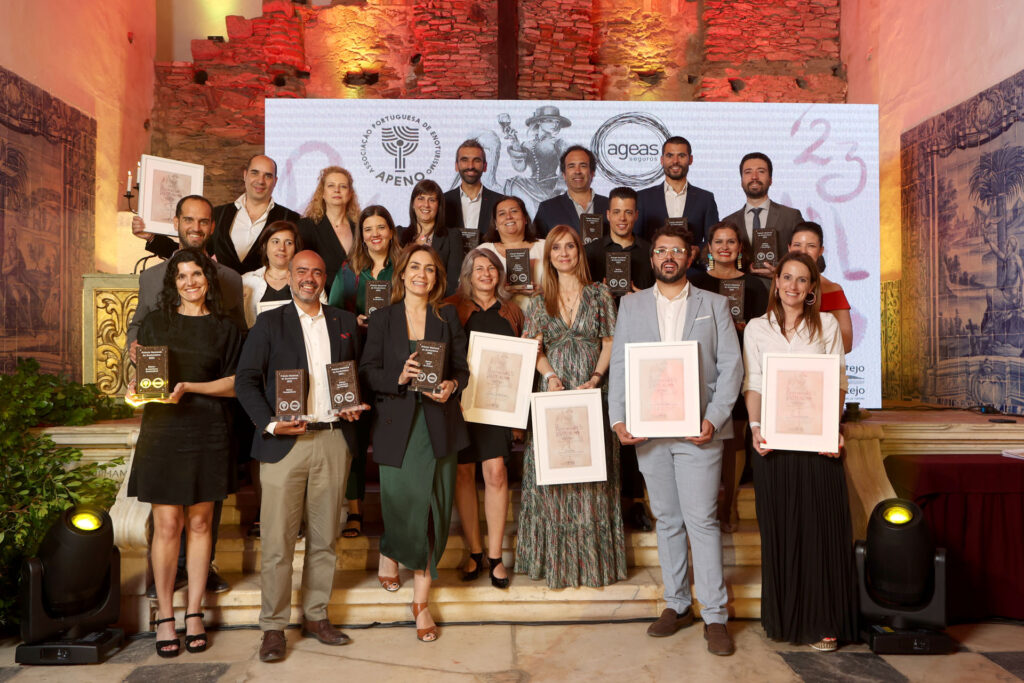 Herdade da Malhadinha Nova wins the Best National Winetourism Prize for the second time, and the Alentejo was the most distinguished region, in a transparent vote carried out on an online platform by more than 250 judges from the sector. In the remaining categories and diplomas of merit, companies and people from other national regions that stood out for their service excellence were also awarded. Portugal leading the way in Winetourism.
The second edition of the Portuguese Winetourism Awards, powered by APENO (Portuguese Winetourism Association) / Ageas Seguros took place on the 26th of May, at the Hotel Convento de São Paulo, in Redondo. An event that distinguished the best wine tourism companies, practices and projects in Portugal, with Ageas Seguros as main sponsor and the support of the Alentejo Regional Tourism Entity which, like last year, was the region that collected the most awards. The National Winetourism Award also included awards sponsored by the Amorim Group, institutional support from the Instituto da Vinha e do Vinho, as well as other companies that participate in a wide variety of ways, such as Schott Zwiesel; Alug'Aqui, Gifts4Wine, Exame, Gracal, Biosphere, CVR Alentejo, Municipality of Redondo, Abreu Advogados, Yon Wine and the Official Ford Dealer | Multiribeiro 2.
Throughout the event, presented by Mónica Jardim, the big winners of the 14 categories were announced: Best Tasting Room (Niepoort); Best Touristic Company (WINEnROUTE); Best Inclusive Project (Adega Mayor); Best Sustainable Project (Azores Wine Company); Best Restaurant (Bomfim 1896 with Pedro Lemos); Best Chef (Miguel Laffan); Best Sommelier (Gonçalo Mendes); Best Professional (Sofia Soares Franco); Best Stay (Torre de Palma Wine Hotel); Best Shop (Quinta da Taboadella); Best Art and Culture (WOW – World of Wine); Best Innovation and Technology (WOW – World of Wine); Best Hospitality (Herdade da Malhadinha); and Best Winetourism in Portugal (Herdade da Malhadinha).
This year, six Merit and Incentive diplomas were also awarded to people who in their companies stand out for the delivery and excellence of the service offered. Vanessa Ferreira (Quinta do Pôpa), David Borges (Adega da Vidigueira); Olena Cherkashyna (Enoport); Ana Reis (Quinta do Sanguinhal), Sónia Martins (Lusovini) and Jorge Afonso (Casa do Jôa).
Marcelo Rebelo de Sousa (President of the Portuguese Republic), who was unable to be present at the event due to commitments previously made, made a point of leaving a video where he greeted the audience, immediately highlighting Portuguese tourism and wine, recognized as "one of the best in the world". He also praised our cuisine, landscape, natural and built heritage, mild climate, warm welcome and our history. And he left a special message for the winners: «I want to congratulate everyone, but especially the winners who were most distinguished and differentiated, who serve as an example and motivation for more projects of excellence. May they be replicated in our country », he said. «Finally, I would like to wish that APENO has the greatest successes, continuing to be a dynamic, creative, innovative, entrepreneurial center of development and social justice for your sector, that is, for Portugal», concluded the President of the Portuguese Republic .
The event, which is already a national reference, was attended by various official entities, including the Secretary of State for Agriculture, Gonçalo Rodrigues; the President of the Wine and Vine Institute, Bernardo Gouvêa; the President of the Alentejo Regional Tourism Entity, Vítor Silva; the Presidents and/or representatives of the National CVRs and Regional Tourism Entities; and José António Vidal, President of the Global Wine Tourism Organization, the organization that represents Wine Tourism worldwide: «It was a pleasure to come to Portugal to attend the National Wine Tourism Prize. The GWTO has followed the work that APENO has developed in Portugal, it is very interesting, and in many aspects pioneering. And I believe it is already bearing fruit. Congratulations to all the winners!".
The judging panel of more than 250 judges included renowned wine and tourism journalists, official wine and tourism entities, chefs and sommeliers, and even APENO associates (official bodies voted in different regions of their and professionals from the sector and associates in people and outside projects): «APENO is growing every day and making an important path in the organization of the sector. Bringing together the world of wine and tourism at this special festival that rewards the best in wine tourism makes us very happy. The event was different, creative, full of glamour, surprises and details. As far as it depends on us, it will always be like this!", assured Maria João de Almeida.