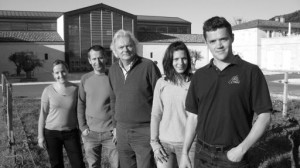 HUBERT DE BOÜARD CONSULTING
The adventure begins
In 2001, when the new owner of Clos des Jacobins came to Saint-Emilion, Hubert de Boüard's future as a consultant began. On that day, the Belgian animated film director Gérald Frydman asked him to come and look after Clos des Jacobins which he had just bought. Hubert de Boüard accepted and the adventure commenced.
Gradually requests came from other properties: Château Haut Corbin, which has since become Grand Corbin, Châteaux Chantegrive, Fieuzal and Clos la Madeleine, then La Pointe in Pomerol and Laroze in Saint-Emilion. Amongst the last to join the club are Châteaux de Ferrand, de Pressac and Trianon in Saint-Emilion, Cambon la Pelouse and Lamothe Bergeron in Haut Médoc, and then recently Château Siran in Margaux and the estates of CA Grands Crus, Château Meyney in Saint-Estèphe and Grand Puy Ducasse in Pauillac.
Career of a vineyard child
Winegrowing is in Hubert de Boüard's genes. He grew up surrounded by his family's vines at Château  Angélus, which at the time was a Saint-Emilion Grand Cru Classé. This childhood is the single most influential experience in his life. For him winegrowing is simple: it is a question of balance, respecting people and protecting the environment.His father bought him his first pair of secateurs, when he was 7, so he could go out and prune the vines. He spent his holidays working in the local vineyards and wineries, while others were enjoying themselves in  Bordeaux or Parisian clubs. Hubert de Boüard is a graduate oenologist from Bordeaux University. His  teachers were Emile Peynaud and Jean and Pascal Ribereau-Gayon. At weekends he worked in the  vineyards of Château Thieuley in La Sauve-Majeure or on Patiras Island across from Pauillac. His first study periods took place at Château Figeac with Thierry Manoncourt in Saint-Emilion, in the Beaujolais region and Burgundy.
At the beginning of the 1980's thanks to Michel Bettane, he began exploring Burgundy, met Henri Jayer, Denis Mortet, Dominique Lafon and many others. He came to understand that protecting the environment is  an essential part of winegrowing and that oenological good practice is based on common sense: tilling the  ground, ageing wines on their lees, etc. And scientific logic has its role to play also.
When he returned in 1985, he took over the family estate at Angélus and has never stopped putting his observations into practice. He is a pioneer and an innovator, who brushes aside past certainties and has challenged a number of established techniques, trying to act more in favour of ecosystems and greater authenticity in the wines produced. In his scientific role, he strives to champion purity and brilliance, offering his expertise as an oenologist to defend the expression of the complex diversity of the various Bordeaux terroirs. Hubert de Boüard recommends massal selection, ageing on the lees, increasing leaf surface area and natural cultivation of grass in the vineyard. He wonders about pruning, soil biodiversity, regulating the load on vine plants, planting densities, soil tilling techniques and adapting root stocks to grape varieties and  soil types. And he did all this twenty years before some, who realised that there was an impact on wine quality and expression, started to do the same. Noticed very early on by a number of critics and professionals, he was elected Winegrower of the Year by Jacques Dupont and Pierre Crisol of the Gault- Millau Magazine at the end of the 1980's and Man of the Year by Revue du Vin de France in 1996 and in 2012.
Hubert de Boüard is a close friend of Michel Rolland, who contributes to his projects and helps him set up many experiments, which will ultimately move modern viticulture and oenology forward.
In 2014, his winegrower's passion is alive and very active through consulting, which remains his main activity. He advises his clients both on vine husbandry and agronomic issues: planting, root stocks, missal selection and rational agriculture directed at preserving ecosystems. He provides advice on setting up vinification and ageing cellars and of course programmes harvests, winemaking, ageing and analytical and microbiological studies.
Experience and expertise
Hubert de Boüard Consulting since its inception has always striven to give the best advice based on detailed oenological analyses in order to help properties produce the truest expression of their wines. This year, when Hubert de Boüard will be making his thirtieth vintage of Angélus, his firm is launching a new logo focussing on the concept of consulting provided by a man with considerable hands-on experience. The droplets above the B echo the characteristic dots above the 'u' in Hubert de Boüard's surname and allude to the quest for balance and the measured appropriateness of his interventions for each individual property and wine.
Hubert de Boüard Consulting seeks to make wines reflect their terroir and environment and ensure they express purity, brilliance and balance. The vision is based on Man and the balance of Man surrounded by Nature, striving to make wines that express and reflect their terroir.
Oenologist Philippe Nunes arrived in 1998 as technical director at Château la Fleur de Boüard in Lalande de Pomerol. He joined Hubert de Boüard Consulting in the middle of the 2000's. In 2008, a scientific laboratory was opened to support the quest for purity and balance in the soils. In 2012, Matthieu de Boüard joined the firm after two years' professional experience abroad.
Although he works in Lebanon, South Africa, Thailand, Spain and Portugal, Hubert de Boüard has always focussed his efforts on the Bordeaux area, considering that his priority was to remain available for properties which trust his services.
Consulting for 50 Bordeaux estates, 5 foreign and 1 in the Var region, Hubert de Boüard Consulting is today one of the leading consultants in the Bordeaux area.
Hubert de Boüard Consulting team, to left at right : Marlène Quilveros, Philippe Nunes, Hubert de Boüard, Delphine Diez et Matthieu de Boüard.