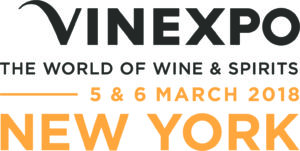 Bordeaux, February 26th 2018 – Only one week before opening, the new Vinexpo Group's wine and spirits trade exhibition in New York is set to attract a wide range of buyers drawn to the depth and diversity of the two-day event.
Running from Monday, March 5–6 at the Jacob K Javits Convention Centre, the event was sold out more than three months before opening with a wide mix of worldwide countries and companies – industry leaders and producers – participating.
Vinexpo New York features 500 exhibitors and is expected to attract 2,500 to 3,000 buyers over the two days.
The show features an extensive programme of events, conferences and masterclasses. Ten masterclasses will be held over the two days, featuring:
Tastings organized by Wine Australia, InterRhône, the Crus Bourgeois du Médoc
Two tastings of Austrian and Spanish wines
Masters of Wine will comment on a tasting of "Old wines versus new world"
A Pinot Noir tasting by Decanter
The planned programme of events, speaker forums and conferences together will comprise an in-depth education programme for learning more about the latest trends and regulations facing the US wine and spirits industry.
Snapshot: the US market
The latest global data from Vinexpo/IWSR reveals that the USA is the world's most valuable wine market.  Worth more than $36 billion in 2017, it is poised to grow over 25% in the run up to 2021, reaching more than $45 billion.
US is bubbling!
Worldwide, sparkling wine is forecast to grow by on average 2% year-on-year to 2021, driven predominantly by North America/the USA. The USA is set to supplant the UK as the world's most important export destination for all sparkling wine by 2021.
Prosecco is expected to grow most in the USA, and in so doing the USA is forecast to become the category's second largest export destination, behind the UK.
US Whiskey is king
Meanwhile, the popularity of US whiskey shows no sign of waning in its home market. In volume, US whiskey consumption is growing and is forecast to continue through to 2021 at a CAGR [Compound Annual Growth Rate] of 3.8% to 2021, to reach 51.1m cases, from 42.5m cases in 2016.
* Data source: Vinexpo/IWSR International Wine and Spirits Trends
About Vinexpo
Vinexpo organises wine and spirits events for industry professionals acting as the sector's international partner since its establishment, in 1981, on the initiative of Bordeaux Gironde's Chamber of Commerce and Industry. Through its 35 years' B2B experience the Group has developed an in-depth understanding of the market, as well as establishing strong relationships with key distributors across the world. It runs exhibitions in five set locations (Bordeaux, Hong Kong, Tokyo, New York and soon Paris), and one touring show (Vinexpo Explorer). Vinexpo thus covers the three continents with the highest consumption rates and continues to be the market leader for wine and spirits events as the go-to forum for producers and buyers. The Group is expanding with two new exhibitions in New York (2018) and Paris (2020) and with Vinexpo Explorer (held in Austria in 2017) scheduled to take place in California in September 2018. Vinexpo's successful expansion strategy is marked this year by the 20th anniversary celebration of its pioneering establishment in Hong Kong, in 1998, of the first ever wine and spirits exhibition in the region.