2020-11-02 – After hymns of praise were sung worldwide for the 2019 Austrian vintage and its white wines, another chorus of enthusiastic voices chimed in: this time shining the spotlight on Austria's remarkable reds.
There's definitely something going on in Austria: although the small wineproducing land in the heart of Europe is still regarded as white wine country (67% of the area under vines is planted to white varieties), Austria's distinctive red wines have also been articulating their position more and more clearly in recent years, right alongside Grüner Veltliner & Co. It is primarily Austria's indigenous grape varieties that are attracting remarkable attention on the international stage – the sort of wines that make a country or a region irreplaceable and represent a unique opportunity for consumers.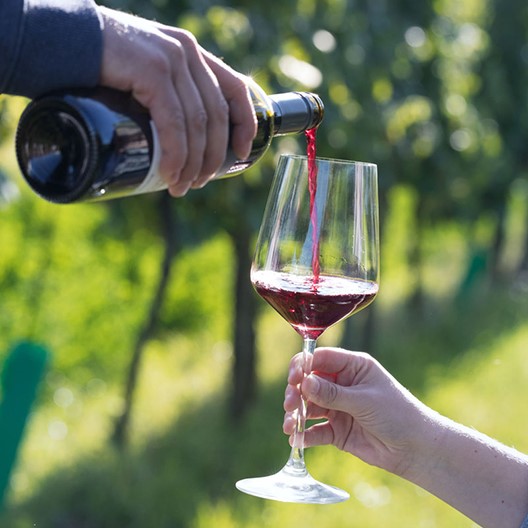 BEST RED WINE RATING YET IN WINE SPECTATOR
Blaufränkisch is currently creating the greatest sensation among international experts. Lead taster for Austria Aleks Zecevic focuses on this grape variety in his article "Bettering Blaufränkisch" for the highly respected consumer magazine Wine Spectator. Zecevic even awarded 94 points to a 2017 Blaufränkisch from the winegrowing region Carnuntum, the highest rating that an Austrian red wine has ever achieved in Wine Spectator.
AUSTRIA'S THE GOLD STANDARD
Although the grape variety is also planted in southern Germany (as Lemberger) and Hungary (as Kékfrankos), the quality and character of Blaufränkisch from Austria make it the gold standard. Often compared with Pinot Noir, Nebbiolo and Syrah, writes Zecevic, its floral and dark berry aromas pair with a unique mineral expression to make Austria's second-most-widely-planted red wine variety totally distinctive.
In addition to his historical review of the impressive development of Blaufränkisch in Austria, Zecevic also sketches its contrasting stylistic aspects in different DAC winegrowing regions. Mittelburgenland – which in 2005 was the first DAC region in Burgenland to be "reserved" exclusively for this grape variety – produces wines with a high degree of concentration and plush tannins. Leithaberg and Eisenberg yield Blaufränkisch with more prominent mineral/spicy highlights, while the vineyard site (Ried) Spitzerberg in Carnuntum offers particularly elegant expressions of the variety. Zecevic concludes his enthusiastic evaluation with some good advice: "If you haven't explored the distinctive reds of Austria yet, now is the time to start."
"THIS IS WHAT THE WORLD WANTS."
Renowned wine critic Stuart Pigott also praises Blaufränkisch on behalf of James Suckling in his 2019 vintage report. For him, this is the grape variety with which Austria currently makes the strongest showing in the red wine department: aromatic, exhibiting a unique freshness that arises from the interplay of tannins and crisp acidity.
Pigott even awards 98 points apiece to the two highest-rated Blaufränkisch, from Mittelburgenland (2017) and from the Eisenberg (2015)! Both wines demonstrate "the personality and sensibility of grand cru Burgundies with the uniqueness of Austria". "This is what the world wants," concludes Mr Pigott.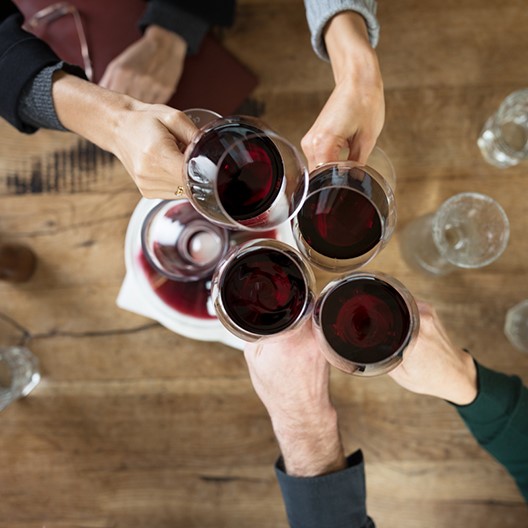 ZWEIGELT: STELLAR RELATIONSHIP BETWEEN QUALITY & PRICE
On top of that, James Suckling's crew also sampled wines vinified from Austria's most widely planted red variety, Zweigelt (a.k.a. Rotburger). With an abundance of fruity charm and harmonious structure, this Austrian marquee player is also gaining an ever-greater international fan base. Ratings of 89–92 points from Suckling confirm the general high standard that Austrian Zweigelt has achieved, offering a stellar relationship between quality and price.
USA & CHINA AMONG THE TOP EXPORT MARKETS
Two thirds white wine, one third red – this proportion is also reflected close to parallel in the export figures: in 2019, red wines made up 32% of the total export value at 58.6 million euros. The most important export markets were Germany (29.6 million Euros), Switzerland (9.4 million Euros), the USA (4.6 million Euros), China (1.9 million Euros) and the Netherlands (1.6 million Euros).
RED WINE FIREWORKS SINCE 2015
Chris Yorke, CEO of the Austrian Wine Marketing Board (AWMB), can't help but be enthusiastic, commenting: "The whole world knows that Austria produces top-drawer white wines; now it's our great red wines that are making international headlines – no wonder; since 2015 we've had a run of top vintages for Zweigelt, Blaufränkisch, St. Laurent & Co. If you still need convincing, try one of these – slightly chilled – with your seasonal dishes: be it a Thanksgiving or a Christmas turkey!"