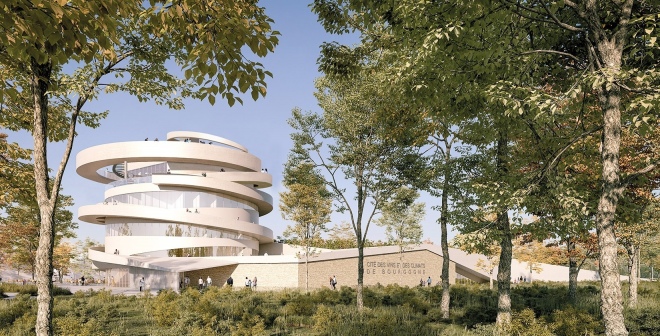 The Cité des vins et des Climats de Bourgogne will be located in the heart of the new, landscaped urban neighborhood, with Biodivercity® certification, just a stone's throw from the Palais des Congrès. It will be modern, ecological, and on a human scale, and will include an upscale hotel, restaurants, and shopping mall with a focus on wine, along with an events hall and a large landscaped park.
Although the site is not scheduled to open until spring 2022, the Cité is coming to life a little more each day, as are the plans for its immersive visitor experience.
A unique way to discover Bourgogne winegrowing culture
An area of 1,100m2 on the ground level of the Cité will be dedicated to the discovery of the Bourgogne region's wines and Climats. Visitors will discover 20 exhibition areas
organized according to three key themes, with an estimated visit time of 90'.

These will explore:
Bourgogne; including its history, its soils, and its different zones
Vineyards & Climats, exploring Bourgogne's unique model of terroir winegrowing
The grapes & the wine: Covering varietal wines, vinification, barres, aromas, and tasting
The Cité in Beaune will also showcase the Climats of Bourgogne, which are listed as a UNESCO World Heritage Site. It will thus be a center for understanding this unique place, which will enjoy a dedicated space within the visitor experience.