Artisan Winemakers of Cascastel protect the ocellated lizard named Timon Lepidus
The Timon Lepidus is a protected specie that is an integral part of their vineyard landscape, their biodiversity. If this lizard has an existence in the Luberon, in the Massif des Maures, north of the Rhone valley… , it is present here at an exceptional density (about thirty lizards counted). It neighbors with the wild rabbit which lends it its burrow and with several other reptiles, witnesses of an area rich of insects and of an undisturbed environment. This is why the Winemakers Artisans of Cascastel wanted to take action to participate in its preservation through scientific partnerships and concrete actions. It is in 2018 that a partnership was born with Grégory DESO, herpetologist of the herpetological association of Provence Alpes Méditerranée (AHPAM), then in 2019 with Jean MURATET, herpetologist of the Audoise association ECODIV. This collaboration has a double interest for them : participate in the preservation and study of the species by following the Ocellated Lizard and its evolution on their vineyard lands as well as increase the awareness of their Artisan Winemakers on environmental issues and the preservation of their biodiversity. Indeed, 35 winemakers have signed a charter "Ocellated Lizard" through which they accept the studies on their vineyard, commit to grass the headlands and around the low walls, to renovate these walls… favoring the presence of insects that the reptile loves. A project carefully followed by Italian winemakers (from Liguria) who have already made contact.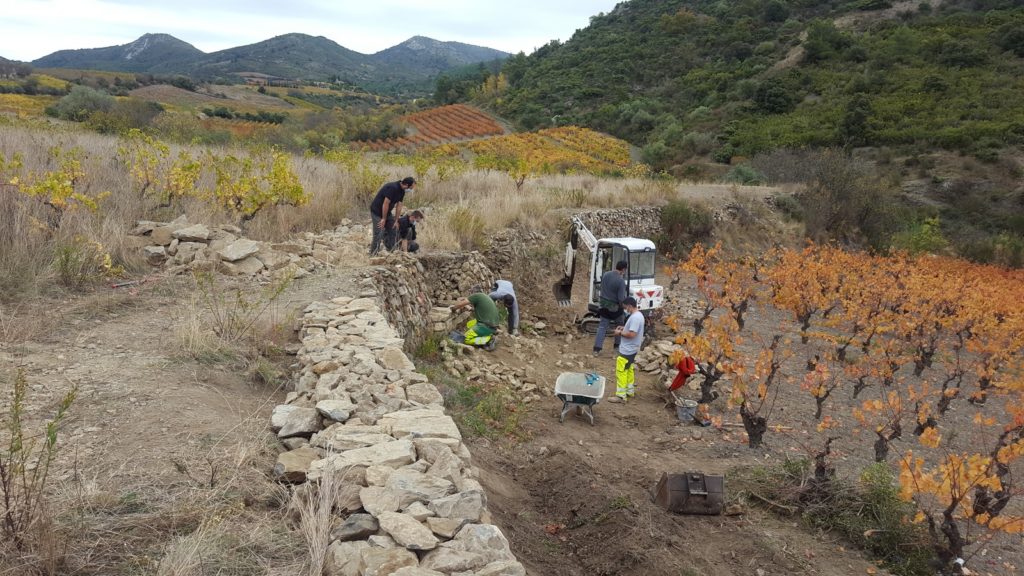 An unusual first project has just been completed on October 30th, other will follow… : The stone walls are dwellings of choice for this species, as they offer both the bord and the lodging as well as sought insolation and maintained walls, therefore little grassy, attract more lizards. 317 walls were mapped covering 10 km on the Cascastel sector, only 32% are in good condition, the rehabilitation will take several years at the speed of 10 meters per day, and the following project to restore the ponds is already mentioned.
VIGNERONS DE CASCASTEL IN SHORT :
Since 1921, the cellar of Cascastel is composed by Winemakers Artisans with a human size. Only 60 winemakers on 4 villages and 950 hectares in the high Corbières and high Fitou region who produce the appellations Fitou, Muscat de Rivesaltes, Corbières, Rivesaltes, Languedoc and IGP Vallée du Paradis. Each of their wines reflects the geographical qualities of the chosen terroir and the century-old knowledge of the winegrowers at Cascastel. The complete involvement of everyone at the cave, winegrowers and collaborators, and the quality of their technical installations allow them to offer a perfect qualitative regularity for each of their wines. Very involved in the preservation of their environment, their wines are certified HVE3 or Organic.
Geoffrey Fabre, President / Atmann Afanniss, General Director / Laurent Zussini Business Manager