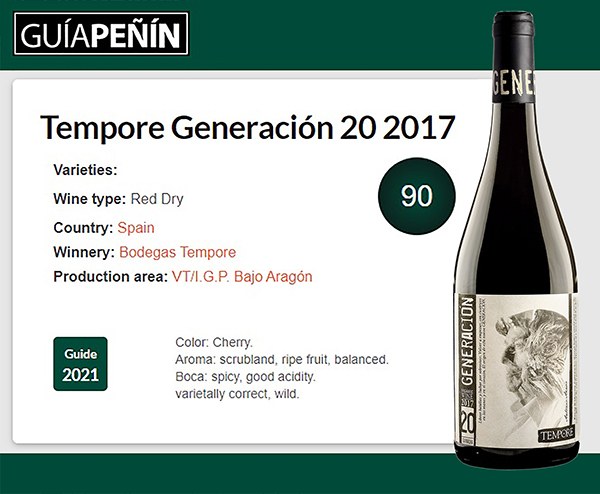 Guía Peñín is considered the most complete guide of Spanish wines in the world. Its professionals taste more than 11.500 wines per year, turning the Guía Peñín in one of the most consulted guides by amateurs and wine professionals.
The wine tasting can take between 1 and 3 minutes. The first notes in the nose and mouth will influence the taster. It is useless to spend much more time on the same wine, because the taster get used to these aromas and therefore do not highlight them. Then, the taster transforms all his visual, aromatic and tasting impressions into a metric system that ranges from 50-100, an American scoring system.
Commentaar van de bodega
The amazing news we celebrate today at Bodegas TEMPORE is that our organic wine GENERACIÓN 20 received 90 points (EXCELLENT WINE) by Guía Peñín.
GENERACIÓN 20, our grandfather, is a monovarietal wine made of Garnacha from old vines (75 years old), and aged during 14 months in French oak barrels.
"Rise up to adversity. Fight fearless through battles untold and caress the scars that reveal the will to persevere. The origin of a new GENERACIÓN" – Antonio Aznar
We are so happy about this recognition to the origin of this big dream, the origin of a new GENERACIÓN. Cheers for the wonderful 100 years of our grandfather Antonio, full of life, experience and passion!
Bestel online
Bestel de wijnen van Bodegas Tempore online: www.duurzamewijn.shop