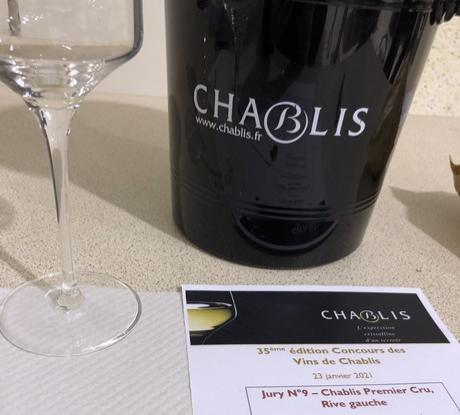 The 35th edition of the Chablis Wine Competition was held in Beine, in the Salle des Beauroy, on January 23, 2021. Due to uncertainty to the last minute, the event had no formal president this year. It was adapted to current health measures by the use of a reduced panel of jurors.
There were 46 tasters this year and 27 medals were awarded based on the 321 samples submitted.
The competition followed a strict protocol ensuring every taster's safety; a large tasting area, masks made mandatory, antibacterial solution readily available, each juror seated alone at a table with an individual spittoon, special ventilation in the room and an adapted pouring system avoiding any handling of the bottles by the tasters. The traditional closing luncheon was cancelled.
This year, the competition focused on vintage 2019 for the Petit Chablis, Chablis and Chablis
Premier Cru appellations and on vintage 2018 for Chablis Grand Cru.
Organised by the Chablis tourist office and the Bourgogne Wine Board (BIVB), a distinctive feature of this event is that professionals having submitted wine samples may not become members of the jury. The tasters are journalists, restaurateurs, sommeliers, wine brokers, oenologists and enlightened amateurs. The tasting goes through two stages: only the
samples that received the best marks when tasted by all the jurors in the first round then get
submitted to the Grand Jury, which alone can award medals. The winning wines will be ambassadors for Chablis over the coming year and will be featured by the Bourgogne Wine Board (BIVB) in its promotional events both domestically and abroad.
Medal-winning wines :
Number of samples: 321
Number of tasters: 46
Number of estates or producers represented: 77
Number of medal-winning wines: 27
Petit Chablis 2019
Gold medal
William FEVRE
Domaine JOLLY et Fils
Silver medal
Domaine de LA TOUR
Domaine Vincent WENGIER
Bronze medal
Domaine Alain GEOFFROY
Nominated wines:
BILLAUD-SIMON
Domaine Sébastien DAMPT, Terroir de Fyé
GARNIER et Fils
Domaine MOSNIER
Domaine SERVIN
Chablis 2019
Gold medal
J. MOREAU et Fils
Domaine de LA TOUR
Domaine Guillaume VRIGNAUD, Les Champréaux
Silver medal
Domaine de la MOTTE, Vieilles Vignes, Cuvée L'Authentique
Domaine VENTOURA
Nominated wines :
Domaine de BIEVILLE
Domaine Jean-Paul et Benoît DROIN
GARNIER et Fils
Domaine Céline et Frédéric GUEGUEN
Domaine LONG-DEPAQUIT
Domaine SOUPÉ, Les Doyennes
Chablis Premier Cru 2019, Left Bank
Gold medal
Domaine de la MOTTE, Beauroy
Domaine Guy ROBIN, Vieilles Vignes, Vaillons
Domaine Jean-Paul et Benoît DROIN, Vosgros
Silver medal
Domaine MOSNIER, Beauroy
Domaine PINSON, Montmains
Maison SIMONNET-FEBVRE, Montmains
Bronze medal
Domaine des Hâtes, Butteaux
Maison HENRY, Vaillons
Nominated wines :
Domaine Gérard TREMBLAY, Beauroy
Domaine DUPRÉ, Butteaux
Domaine DE LA TOUR, Côte de Cuissy
Jean COLLET et Fils, Montmains
Domaine Guy ROBIN, Vieilles Vignes, Montmains
Domaine CHEVALLIER, Montmains
J. MOREAU et Fils, Vaillons
Domaine VOCORET et Fils, Vaillons
Domaine Jean-Paul et Benoît DROIN, Vaillons
Domaine Daniel DAMPT et Fils, Vaillons
Domaine Céline et Frédéric GUEGUEN, Vosgros
Chablis Premier Cru 2019, Right Bank
Gold medal
Domaine du COLOMBIER, Vaucoupin
Domaine GAUTHERON Alain et Cyril, Vaucoupin
Silver medal
La CHABLISIENNE, Vaulorent
Domaine des MALANDES, Fourchaume
Bronze medal
Domaine Jean JACQUIN et Fils, Montée de Tonnerre
Nominated wines:
Domaine du COLOMBIER, Fourchaume
Domaine Guillaume VRIGNAUD, Fourchaume
La Chablisienne, Mont de Milieu
Jean COLLET et Fils, Mont de Milieu
Domaine VENTOURA, Mont de Milieu
Domaine SERVIN, Montée de Tonnerre
J. MOREAU et Fils, Vaucoupin
Domaine GAUTHERON Alain et Cyril, Vaucoupin
Domaine Jean-Paul et Benoît DROIN, Vaulorent
Chablis Grand Cru 2018
Gold medal
Domaine Jean-Paul et Benoît DROIN, Vaudésir
Silver medal
Domaine VOCORET et Fils, Blanchot
Domaine VOCORET et Fils, Les Clos
Bronze medal
Domaine SERVIN, Blanchot
Nominated wines:
Domaine PINSON, Les Clos
Domaine BILLAUD-SIMON, Preuses
Maison SIMONNET-FEBVRE, Preuses
Domaine Guy ROBIN, Valmur
Domaine Jean-Paul et Benoît DROIN, Valmur