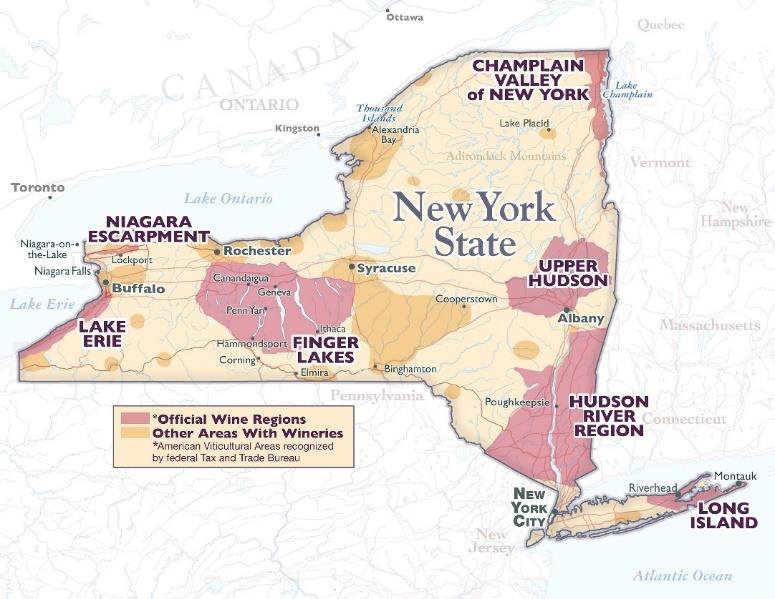 Sustainability is an important issue and on-going dialogue for New York wines.
Indeed, trends indicate that consumers are increasingly interested in purchasing sustainable products and are willing to pay more for them. Sustainable vineyard practices are widely regarded as essential to reduce environmental impact and improve the quality of wine. While organic wine is more universally understood, sustainably produced wine has the highest future purchase consideration, with 71% of U.S. wine drinkers (surveyed in January 2020) indicating that they would consider buying sustainably produced wine in the future.
The New York Wine & Grape Foundation is working to develop a New York certified sustainability program that will highlight the sustainable practices New York grape growers have already adopted, while providing guidance on how to advance their sustainability efforts in a consistent manner. The program, starting in 2021, is funded by the U.S. Department of Agriculture, New York State Department of Agriculture and Markets, the Genesee Valley Regional Market Authority, and a private matching grant from John Ingle of Ingle Vineyards and Heron Hill Winery.
Events to come:
Webinar episode 6 New York State of Wine: Boldly, sustainable. With Pascaline Lepeltier – February 17 – Click here
Master Sommelier Pascaline Lepeltier will lead a discussion with New York winery representatives about how they are thinking and acting sustainably, from farming to winery and business practices. The panel will also look at the region's new sustainability program and what that means for the future.
New York wines will participate in the second U.S. Sustainable Winegrowing Summit to be held virtually, April 19 – April 21
A gathering of regional winery and vineyard associations, engaged grower and vintner leaders, and others committed to the sustainability of their local vineyards, wineries and regions. The project aims to better understand consumer and trade interest in sustainably produced wine and to educate trade and consumers about sustainable winegrowing.
The program will include a virtual visit of four sustainable vineyards, among which a New York winery.
Hosted by: California Sustainable Winegrowing Alliance, LIVE, Long Island Sustainable Winegrowing, Oregon Wine, New York Wines, Washington State Wine and Washington Winegrowers
https://newyorkwines.org/event/u-s-sustainable-winegrowing-summit/
info@sustainablewinegrowing.org
The 2019, the first ever U.S. Sustainable Winegrowing Summit, was a success with 6 states represented, 23 speakers, 65 attendees. You may read the conclusions in the
Summit West Highlights.
Focus on New York wines sustainability movement:
The New York Wine & Grape foundation supports a sustainability movement among growers.
Long Island Sustainable Winegrowing: the First Certified Sustainable Viticulture Program on the East Coast, a not-for-profit organization that provides education and certification for Long Island vineyards.
https://www.lisustainablewine.org/
A virtual tasting was organized in October 2020 with Whitney Beaman, a sustainability specialist, with a focus on cool climate sustainable winegrowing in New York State
https://newyorkwines.org/virtual-tastings/sustainably-farmed-wines-of-new-york-state-with-whitney-beaman/
NYWGF has supported an Annual Sustainability Award for the past two years:
Presented for the first time in 2019, the Sustainability Award recognizes an organization or business that has demonstrated noteworthy sustainable practices and a commitment to conserving natural resources, protecting our environment, and contributing to the overall success of the New York State economy. The winner is determined by nominations from within the wine and grape industry, as well as related businesses and individuals.
New York wines: a cool climate region
Diverse and bold, with a long history stretching back hundreds of years, New York is reinventing itself as an epicenter of dynamic winemaking.
The state is home to the first winery in the United States, and producers are drawing on that background to produce some of the most exciting wines in the country. Wine has been made since the 17th century and since the 1950s a successful focus on quality has taken hold to the point that New York is gaining a well-deserved reputation as one of the world's most transformative regions.
There is an incredible amount of diversity in climate and growing conditions: from Long Island, exposed to the Atlantic Ocean, to Hudson Valley, the historic heartland of New York wine, to Niagara and the Champlain Valley on the border with Canada, to Finger Lakes, which has established itself as a region that can compete with Germany, Austria, and the Loire Valley. Think cool climate, expect the unexpected.
NYGWF – One Keuka Business Park, Suite 208 – Penn Yan, New York 14527 – USA
(315) 924-3700 – info@newyorkwines.org – https://www.newyorkwines.co.uk/