First International Rosé Award in Germany / Over 1,000 rosé wines put to the competition / Ferry Lacombe Diffusion is France's best rosé producer
Rosé wines are in vogue around the globe. For the first time, an officially recognised competition of international rosé wines has now taken place in Germany. A jury of experts consisting of sommeliers, wine journalists and wine retailers judged more than 1,000 rosé wines from 13 wine-growing countries. Conclusion: Rosé can be more than an uncomplicated summer wine.
What once began in France has started its triumphant march through the entire wine world. The variety and high quality of the rosé wines submitted perfectly reflects the development of the past years. The spectrum ranged from simple terrace rosés to rosés matured in large wooden barrels or barriques to fine fruity and noble sweet rarities.
Almost half of the wines entered came from German wine-growing regions. In total, 190 rosé wines from Germany were awarded.
Internationally, a total of 88 wines from France impressed the expert jury and therefore received an award. 48 awards went to Austria, 36 to Italy and 21 to Portugal. Winegrowers from Spain (11), Greece (6) and South Africa (5) were also awarded for their excellent rosé wine qualities.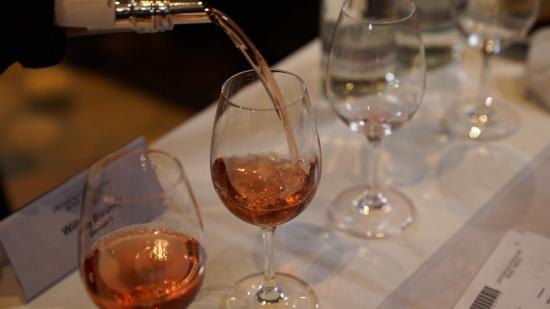 The best rosé wines of the competition were honoured by the expert jury with a special award in addition to their points score. This was awarded exclusively to the best rosés in their category and origin. For example, the "Best Rosé New World" comes from Springfontein Estate, South Africa, the "Best Rosé Italy" from Donnafugata or the "Best Rosé Spain" from Bodegas Azpilicueta. In the category of noble sweet wines, the winery Helmut Lang, Illmitz (Austria), was awarded.
For its entire collection, the winery Fam. Strehn (Austria), the winery Ferry Lacombe Diffusion (France) and the winery Hammel (Germany) may call itself "Best Rosé Producers" of the Meininger's International Rosé Award 2021.
Director Degustation Christian Wolf summarised the 1st Meininger's International Rosé Award as follows: "It was impressive how many different styles of rosé we were able to taste. From simple but very well made rosés to matured and highly exciting rosés. This trend is definitely there and it is extremely worthwhile to look into rosé more intensively. The competition shows that rosé can do much more than it has been given credit for until now."
On a total of four tasting days, in compliance with strict hygiene measures, the rosé wines were blind tasted by an expert jury of oenologists, wine retailers, sommeliers and journalists.
A total of 413 rosé wines from all over the world were awarded by the competition, 51 of them were awarded 90 points and more.
All awarded rosé wines, the special awards as well as further information on the 1st Meiningers International Rosé Award can be found at:
https://www.meininger.de/en/ergebnisse/meiningers-international-rose-award-2021
About Meininger's International Rosé Award
For the first competition, which took place in April 2021, more than 1,000 rosé wines from all over the world were submitted for competition and blind tasted and evaluated by a jury of experts using the internationally recognised 100-point scheme. The competition is the only officially recognised competition exclusively for rosé wines from all over the world.
The organiser of the competition is Meininger Verlag, founded in 1903 in Neustadt an der Weinstraße, one of Germany's oldest specialist publishers and now run by Andrea Meininger-Apfel and Christoph Meininger in the fourth generation. The company specialises in particular in the wine and beverage industry and its portfolio makes it the European market leader in the wine sector. In addition to well-known trade magazines, the company organises trade fairs, industry events and trade congresses. Internationally, Meininger Verlag has made a successful name for itself with the MUNDUS VINI Grand International Wine Award.