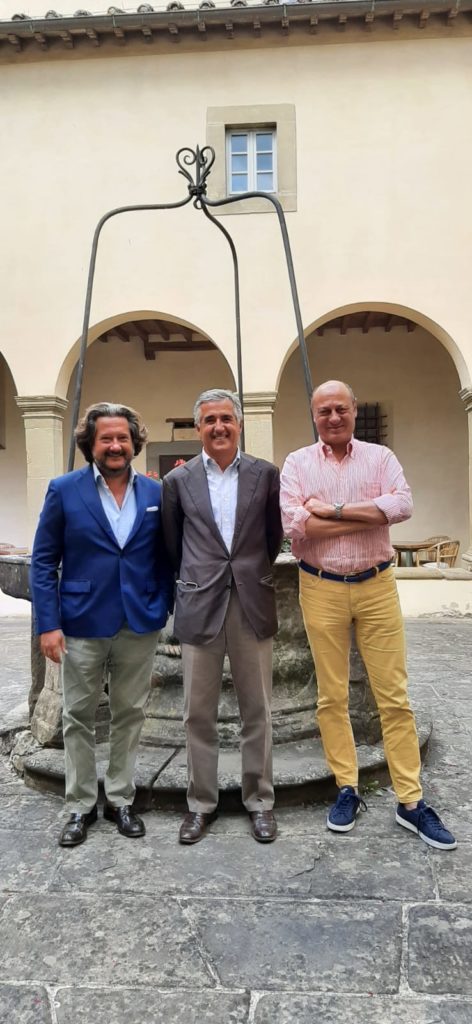 Another three-year term full of challenges for the Chairman of the oldest wine-producers' Consortium in Italy.
Alongside Manetti are Vice-Chairmen Colpizzi and Zingarelli.
Barberino Tavarnelle, 9th September 2021 – Giovanni Manetti, born in 1963, a DOC native of Chianti, has been reconfirmed as Chairman of the Vino Chianti Classico Consortium for a second three-year term. The appointment was made today by the newly-elected Board of Directors, which unanimously decided to entrust the owner of the well-known Chianti winery in Panzano with the delicate task of leading the Consortium in this very special and unusual period.
Giovanni Manetti's passion for the wine sector – he likes to define himself as a winegrower-craftsman – has led him to experience many aspects of it, as a specialist, an entrepreneur and an active participant in the life of the designation, as a Board Member of the Consortium since 1992, as Vice-Chairman since 2012 and finally as Chairman since 2018. His prestigious curriculum has recently been enriched by a new appointment, that of the Order of Merit for Labour, one of the Italian Republic's highest accolades for contributions to productive activities that bring prestige to our country.
His varied and rich experience has received the full consensus of the various categories represented on the Consortium's Board of Directors (winegrowers, winemakers, bottlers), who have reaffirmed their confidence in Manetti's strategic approach. This is based on further promotion of the Chianti Classico wine denomination through the ongoing pursuit of product quality, consisting of authenticity and territoriality, improving its position and image on national and international markets.
"I have been asked to renew my willingness to lead this prestigious Consortium and I am very pleased with the trust that the entire membership has once again placed in me," says Giovanni Manetti. "I am therefore glad to accept the job and, with renewed enthusiasm, I hope to lead the Consortium and our member companies out of the current period of health emergency. The three years ahead will be challenging and I hope to be able to continue successfully along the path taken in my first term of office, contributing to the consolidation and further enhancement of one of the finest representatives the Italian and international wine sector. Lastly, I would like to give special thanks to the councillors who supported me in the first three years of my term as Chairman, but also to all the Chianti winegrowers. It really is thanks to them that we managed to weather the Covid-19 storm without any particular consequences for our designation. And there are three main reasons for this: attention to quality, at all levels, which has never been lacking in Chianti Classico wineries; a prompt reaction, that is, an ability to adapt to the market, including the timely opening of new sales channels and the use of new communication methods; and finally, the capacity for cohesiveness. This cohesiveness is, let me reiterate, one of the strong points of our Consortium and our designation: united, we will overcome."
In recent years, the Consortium has become increasingly aware of the indissoluble link between a product of excellence and its production area. Among the projects for the next three-year period, priority will be given to forwarding the UNESCO nomination procedure for Chianti Classico as a cultural landscape; the governance of the Rural District of Chianti, in agreement with the local municipalities; the launch of a new agronomic research project in the area, also in order to better cope with climate change over time; and finally, continuing work on the Additional Geographical Units project, recently approved by the General Assembly, as a means of amplifying the combination of wine and territory, in order to further improve quality in terms of identity and territoriality.
Along with Giovanni Manetti, leading the Consortium, Francesco Colpizzi and Sergio Zingarelli are reconfirmed as Vice-Chairmen.
The new Board of Directors of the Chianti Classico Consortium consists of: Laura Bianchi – Castello di Monsanto, Luigi Cappellini – Castello di Verrazzano, Sebastiano Capponi – Villa Calcinaia, Alessandra Casini Bindi Sergardi – Bindi Sergardi, Duccio Corsini – Principe Corsini – Villa Le Corti, Renzo Cotarella – Marchesi Antinori, Simone François – Castello di Querceto, Giovanni Manetti – Fontodi, Tommaso Marrocchesi Marzi – Bibbiano, Nicolò Mascheroni Stianti – Castello di Volpaia, Filippo Mazzei – Marchesi Mazzei, Alessandro Palombo – Luiano, Giovanni Poggiali – Felsina, Enrico Pozzesi – Rodano, Davide Profeti – San Felice, Francesco Ricasoli – Barone Ricasoli (winegrowers); Andrea Cecchi – Cecchi, Sandro Sartor – Ruffino, Sergio Zingarelli – Rocca delle Macìe (bottlers); Francesco Colpizzi – Castelli del Grevepesa, Malcolm Leanza – Cantina Colline del Chianti (coops).