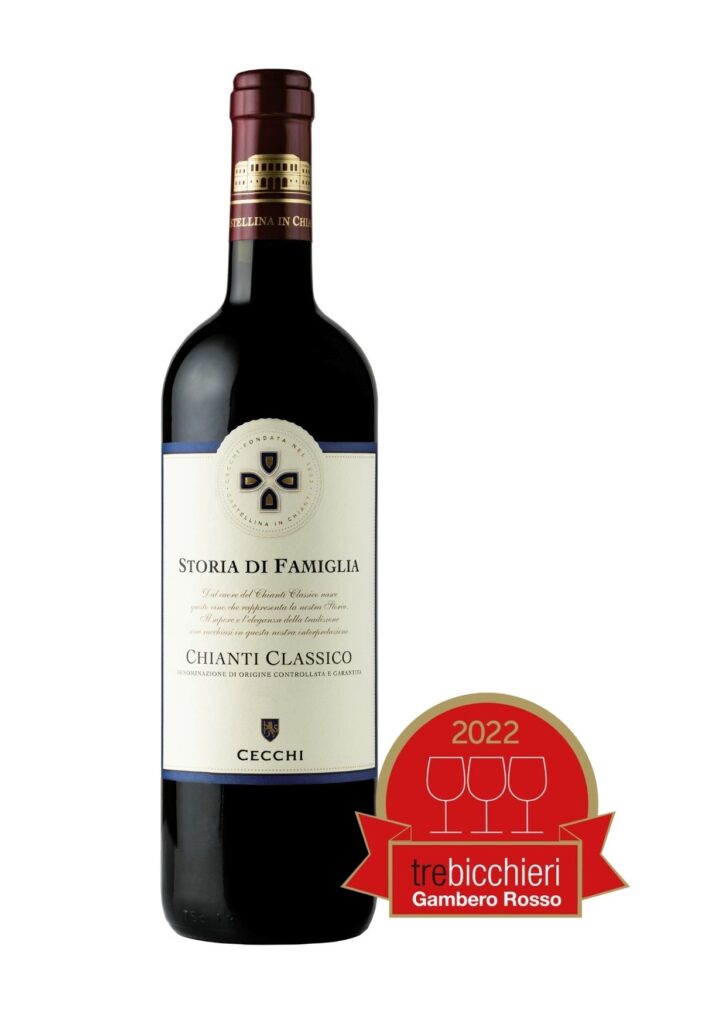 A Sangiovese that is a symbol of the past, a reference for the present and a promise of the future wins the Tre Bicchieri award by Gambero Rosso for the first time
October 2021 – Fruit of a well-balanced harvest, Chianti Classico Storia di Famiglia from the line "Gli Scudi" combines Tuscan tradition and modern elegance, a bond that has enabled the 2019 vintage to win the prestigious Tre Bicchieri by Gambero Rosso.
Storia di Famiglia has always been the wine in which Cecchi has greatly identified with. It is produced in Castellina in Chianti, the historic headquarters of the winery and the heart of the Chianti Classico DOCG production area: a fascinating patch of land that Cecchi defends and respects, promoting high-quality wine production. Sustainability is practiced daily by protecting and enhancing the agricultural and environmental heritage, as well as by recovering and utilizing new technologies that allow for reduced energy consumption and lesser use of natural resources for production.
An elegant wine with a high profile, it is the fruit of a long and consolidated experience combined with a new interpretation of the territory and constant research on the varietal character of the grapes, which must clearly and unambiguously emerge for each label. The expression of Sangiovese and the balanced tannins, combined with good structure and freshness, come forth thanks to a winemaking technique modulated based on the characteristics of the grapes from each plot and the trend of the vintage. This results in a variable duration for maceration, and fluctuating frequency and period of pumping over operations.
"The seasonal trend of 2019 was characterized by extremely regular climatic conditions – says Miria Bracali, enologist at Cecchi – a generally cold and not extremely rainy winter was followed by a spring season characterized by regular rainfall that lasted until the month of June. The mild temperatures favored a balanced growth of vegetation and grape bunches. The summer months did not register excessive temperatures and the grapes reached excellent ripeness. Harvest was duly carried out from September 10 and lasted until October 13".
The final goal is the pursuit of utmost elegance while maintaining the characteristics of the vintage.
Boasting a precious ruby red color, Storia di Famiglia is characterized by notes of red fruit combined with spices and rosemary, which make it more complex. It is delicate in the mouth, with vibrant tannins that evolve in depth, accompanied by a balanced freshness. Endowed with a broad structure and a persistent aftertaste, it reveals a mineral and savory finish.Storia di Famiglia is part of the line "Gli Scudi", together with Riserva di Famiglia and Valore di Famiglia. Three different expressions of Chianti Classico DOCG that embody the excellence of Tuscan wine production and underline the value and historical importance of Cecchi, a reference in the world of wine for more than 125 years.