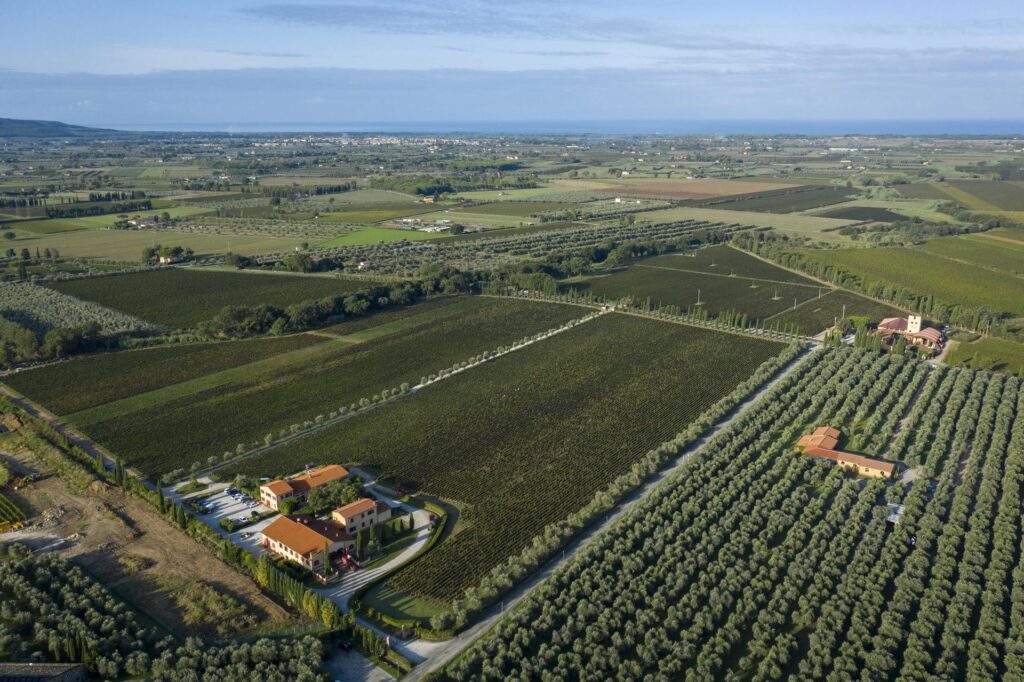 The Bolgheri winery has purchased two additional hectares of land, enriching its wine heritage, balanced between identity and evolution
Bolgheri, February 2022 – Campo alla Sughera, the winery located between Bolgheri and Castagneto Carducci, between the banks of the Fossa di Bolgheri and Borro delle Macine, kicks off the new year with important news.
This update regards the purchase of new land: 2 hectares bordering the estate and separated from the Fossa di Bolgheri, which are added to the winery (of which 16.5 are vineyards with the potential of arriving at 18), for a total of 22 hectares enclosed in a place characterized by extraordinary natural elements: the marly soil, mineral rich soil, and the sea which influences greatly the microclimate of the area as well as the timing and evolution of the wine.
Of the two new hectares, 1.5 of them will be utilized for the planting of vineyards. We find two rows of olive trees, 80 plants which have the goal in preserving biodiversity and landscape impact, also implementing the production of Campo alla Sughera olive oil.
The authentic territorial vocation that distinguishes the philosophy of the Estate, has led the Knauf family to identify the Bolgheri plots most suited to the making of great wines. The newly purchased land consolidates the strategic path to enhance the best international varietals. The soil has been carefully studied in its morphological and pedoclimatic characteristics and has a high potential in further increasing the production of Arnione, the winery's iconic wine.
"Located on the south-west facing slope of the Fossa di Bolgheri, says Campo alla Sughera winemaker Francesco Galiardi, the two hectares have a soil similar to that of the most historic vineyards of the property, mainly of alluvial origin, very rich in pebbles, silt, and fine sands. It is a deep soil, while at the same time light and characterized by excellent drainage capacity and low fertile qualities. As a result, it demonstrates an ideal environment for the production of balanced, vertical, and elegant wines, like Arnione."
The land brings with it yet another important advantage: the position adjacent to the main vineyard, will determine an optimization of the timing between harvesting the grapes and arrival in the cellar. The planting of the vineyard is scheduled for next year, with varieties still to be confirmed. In the coming months the new land will be levelled and left to rest, which will then be followed by the construction of a well. This acquisition marks the beginning of the year marked with further investments in order to increase the production of wines with the highest quality, always in full compliance with the philosophy of Campo alla Sughera: scientific rigor and human dedication, médocaine method, and precise viticulture, to give life to a wine heritage that is an authentic witness to the quality and fine complexity of the Bolgheri lands.