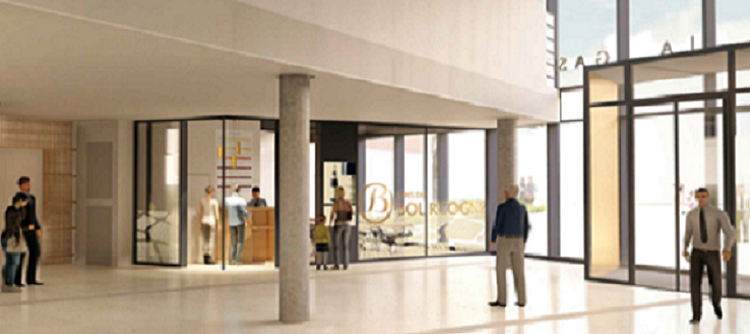 The Cité Internationale de la Gastronomie et du Vin (CIGV) in Dijon opens its doors to the public on 6 May, comprising a cultural and educational hub covering some 5,000m2. The École des Vins de Bourgogne will have a stand in the main hall of the CIGV, with 70m2 dedicated to a unique concept featuring four tasting workshops designed to awaken the five senses. These immersive and innovative experiences will allow visitors to widen out their cultural and gastronomic experience with a multi-sensorial plunge into the world of Bourgogne wines.
A unique concept
These workshops have been designed to welcome all visitors to the CIGV, both French and international, locals and those from farther afield. They will appeal to both newcomers to the world of wine and confirmed fans who are looking for a fresh way to discover Bourgogne wines and to acquire some tasting essentials.
The four workshops are highly innovative and cover a broad range of subjects. Participants will be truly immersed in the subject, thanks to images and videos projected on all four walls of the room, with its ceilings almost 3m high. They might find themselves standing in a particular plot of vines before sampling the wine produced there, or immersed in a bouquet of the fruit and flowers that are suggested by the aromas in that very same wine.
Each workshop is organized around a tasting of between three and five wines and provides participants with the keys to a better understanding of Bourgogne wines. And if you're looking for a broader experience, made-to-measure workshops can be arranged on request for both individuals and professionals. All workshops are available in English and French.
Brigitte Houdeline, Director of the École des Vins de Bourgogne, tells us more: "We want to offer visitors an innovative and friendly way to discover Bourgogne wines, through workshops where the visual, the auditory and the gustatory are intertwined, immersing participants in a multi-sensory journey to the heart of the vineyards. As a result, we hope to inspire a desire to explore our magnificent region and the diversity of its wines on a deeper level."
Four tasting workshops with four themes
Four workshops are on offer, with prices ranging from €20 to €29 per person and lasting between 40-60 minutes. With a maximum capacity of 18 participants per session, these workshops are also open to those with reduced mobility. Bookings will open in April.
An Introduction to Wine Tasting: Decode the techniques and vocabulary of wine tasting and learn how to describe a wine in terms of how it looks, smells, and tastes. Three wines, €20 per person (40')
The Impact of Vintage: This workshop explores the bearing a vintage might have on a wine, and explores single varietal cultivation, how a wine changes over time, and ageing potential. Three wines, €20 per person (40')
Bourgogne Terroir Wines: Learn about the notion of terroir in Bourgogne through grape varietals, winegrower expertise, the hierarchy of the 84 appellations, and the Climats. Four wines, €20 per person (40')
Food and Wine Pairings: Explore the diversity of Bourgogne wines by pairing them with local gastronomy. Tasting of five wines with five regional specialties. Five wines, €29 per person (60')
To find out more
If you are looking for something more and want to improve your skills or explore other subjects, the École des Vins de Bourgogne offers a wide range of training courses, suitable for everyone, from beginners to professionals. A team of passionate specialists, including oenologists, sommeliers, agricultural engineers, viticulture technicians, geologists, and sensory analysts are there to share their experience and love of wines with you. In 2023, the Ecole des Vins de Bourgogne will be moving to new premises within in the Cité des Climats et vins de Bourgogne in Beaune.
How to book a workshop, for yourself or as a gift…
On the École des Vins de Bourgogne website at: www.ecoledesvins-bourgogne.com
On the CIGV website at: www.citedelagastronomie-dijon.fr
In the lobby of the CIGV, at the Dijon Tourist Office desk