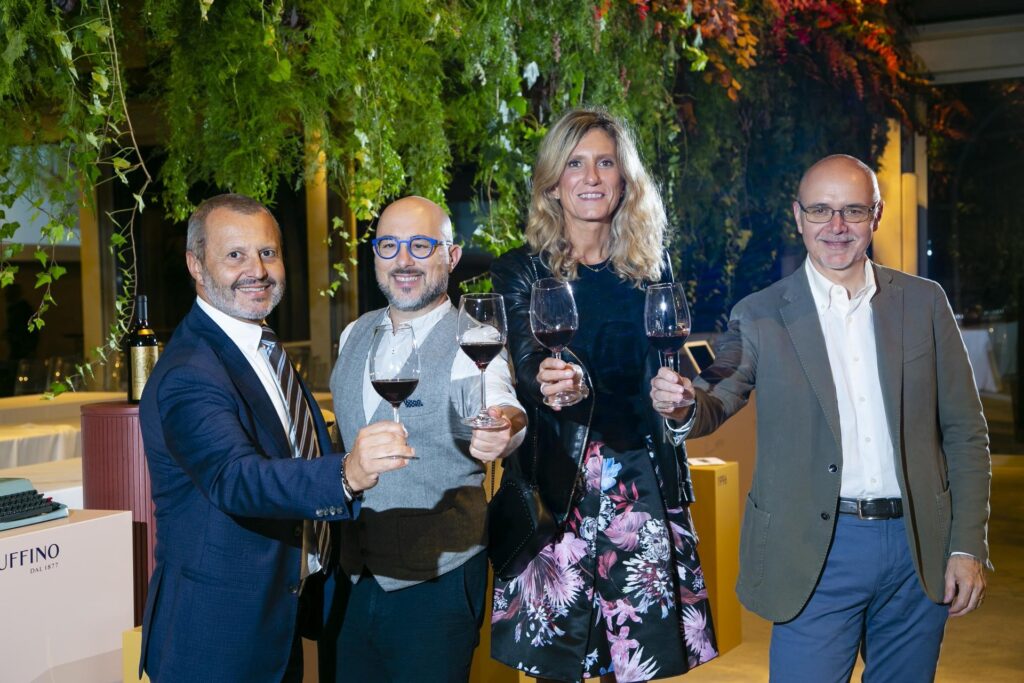 Quality, restyling of the brand and labels, and all-round sustainability: the historic Tuscan company, founded in Pontassieve in 1877, is moving in a new direction.
"The future belongs to those who started it. The future begins today." This is how Ruffino is announcing its new direction with the official debut of the redesigned label of one of the company's iconic wines, Chianti Classico Riserva Ducale Oro Gran Selezione, which represents the start of a broader innovation journey. "A glorious past should not be a constraint, but an opportunity," comments Sandro Sartor, the company's chairman and CEO. "Above all, for a wine – in this case, one of the greatest Chianti Classico selections – to remain the same, it has to be able to change."
A few days ago in Milan, the historic Villa Necchi Campiglio – a FAI ("Fondo per l'Ambiente Italiano", Italian National Trust) property – hosted an exclusive vertical tasting of Riserva Ducale Oro, through five decades, from the 1970s to the present day. A label which, over the years, has become one of the symbols of Ruffino. While the creation of Chianti Stravecchio at the start of the last century allowed the company founded by cousins Ilario and Leopoldo Ruffino to become the official supplier to the Royal House of Savoy, the launch of the Riserva Ducale in 1927, and later that of its evolution "Oro" in 1947, enabled the Pontassieve-based company to preserve and hand down an important piece of Tuscan and Italian viticulture and oenology history to the present day.
The tasting, which featured seven vintages of Chianti Classico Riserva Ducale Oro – 1977, 1982, 1988, 1996, 2000, 2014 and 2018 – was conducted by international wine writer Filippo Bartolotta, assisted by Ruffino's oenologist Gabriele Tacconi. This fascinating journey allowed journalists and industry professionals not only to experience the great energy and quality of wines that defy time, but also to immerse themselves in the history of a company that has always sought to innovate its style and content, drawing on solid roots and over a hundred years of heritage. "It's great to think that 30 years on we can still talk about these wines because someone has taken care of the land and the environment where they are produced," remarks Sartor.
These are the very foundations that inspired Ruffino's recent label redesign project, which is part of an overall restyling process that also includes the logo. "Our great history must propel us into the future, which is why we felt a need to make our look more contemporary, while keeping the product the same and, indeed, constantly improving it," comments Annarita Cicciarelli, marketing director at Ruffino.
"We started with the Riserva Ducale Oro, which now features a renewed label that remains faithful to the original, retaining the foreground scene that recalls the Duke of Aosta's visit to Pontassieve in 1890," explains Angelo Ferrara, creative director of Robilant Associati, which is overseeing the restyling process. "We wanted to create silence and make the elements visible and crystal clear. The logo also had to be repositioned: we revived the coat of arms, which was absent, but in fact present, poetically hidden, and made it the main focus."
However, the promotion of true works of art, such as the Riserva Ducale Oro, is only possible if they are part of an approach that makes it possible to preserve the environment where they are produced. "For us, the concept of sustainability means many things," concludes Sandro Sartor, illustrating some of the key issues that the company addresses within its sustainability journey and as part of a wide-ranging social responsibility project launched in 2018 under the name Ruffino Cares. "As farmers, the environmental factor is of course very important and we regard ourselves as custodians of the land we cultivate." Today, 51% of Ruffino's vineyards have completed the conversion to organic and within two years it will be definitively completed, covering 100% of the vineyard area. "Moreover, Ruffino embraces every form of sustainability, not only environmental, but also social and ethical sustainability, which are fundamental to implementing a truly responsible corporate culture."