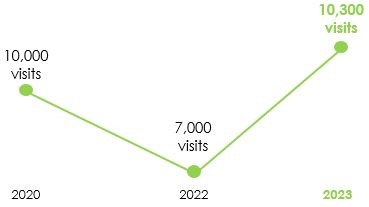 REVIEW
ALL-TIME HIGH – In 2023, Millésime BIO posted 1,500 exhibitors and over 10,300 visits. "We regained and even exceeded pre-Covid attendance levels", says a delighted Jeanne Fabre, chair of the Millésime BIO committee of Sudvinbio. "This confirms both market demand for organic wines and Millésime BIO's status as the largest organic wine exhibition in the world".
20 % OVERSEAS ATTENDEES WITH OVER 50 COUNTRIES REPRESENTED – Mirroring the resumption of trade and return of non-EU export markets, "buyers from around the world attended", points out Nicolas Richarme, chairman of Sudvinbio. "It's a good sign, particularly for French producers, because it shows there is still room for growth in export markets."
PROFILES – Importers, on-premise buyers (restaurant directors, sommeliers), wholesalers, trading companies, super/hypermarket buyers… A closer look at attendance profiles confirms the quality and variety of visitors. The viewpoint is shared by exhibitors who praised the organisers' pre-event selection.
2,913 BUSINESS APPOINTMENTS REGISTERED BEFORE THE EVENT OPENED – That's 12 % more than last year, which means that visitors prepared their attendance ahead of the exhibition even more.3,100 DISCUSSIONS DURING THE DIGITAL SESSION – On top of the exhibition figures are those from the digital session on 23 and 24 January, in which 800 buyers from around the world took part. 
DEBATES
BULK AT MILLÉSIME BIO:
A NATURAL DEVELOPMENT ?
This year, Millésime BIO welcomed bulk producers for the first time. Frédéric Saccoman runs France's largest organic co-operative winery specialising in bulk – Vignoble de la voie d'Héraclès, situated in the Gard department. On the third day of the exhibition, he took part in a panel discussion on the latest developments for bulk.
Bulk volumes are anything but trivial "In five years, production of organic wine has doubled in a region like Occitania, and now totals approximately 1,600,000 hectolitres. One quarter of that production is sold in bulk which is by no means an insignificant amount. The bulk market has its own specifics. We produce varietal wines that we deliver to négociants who sometimes blend them and bottle them under their own brand. It's an important market and as such has a rightful place in an exhibition like Millésime BIO". Demand for bulk "The organic market has grown exponentially, fuelled by very strong demand. It was difficult to keep up with the rise in demand! Now, competition is stronger but bulk continues to hold its own. The market is transitioning – appellation wines are declining and this is benefiting PGI wines and their white and rosé varietals in particular which are easy to understand and drink. They align with new trends. We have the capacity to produce these wines". The need for international recognition "For operators like us, Millésime BIO offers an opportunity to demonstrate the quality of our wines and meet foreign buyers, primarily Japanese, American and Canadian, who usually turn to countries like Italy and Spain where the bulk market is much more structured".