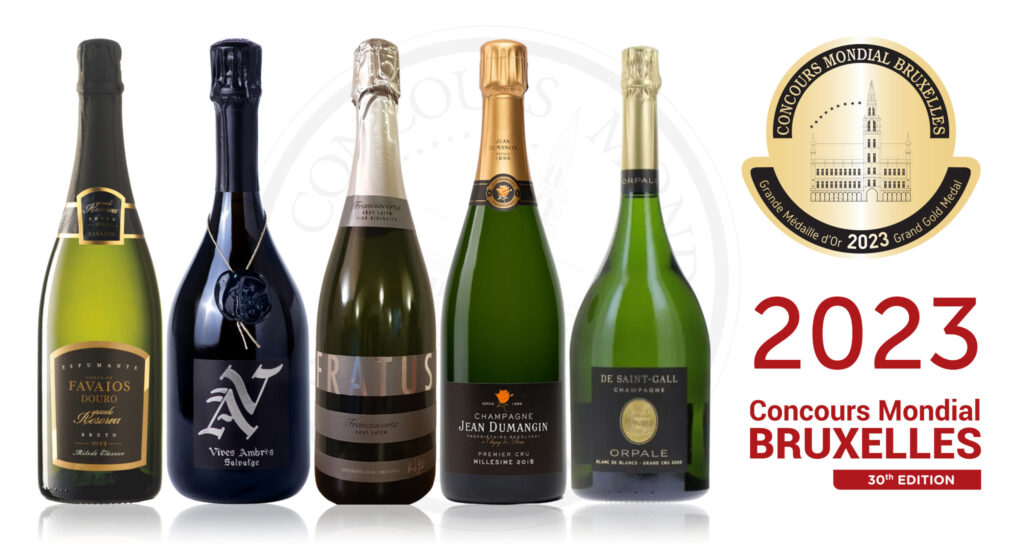 Last week in Naples, nearly 1,000 sparkling wines from across the globe competed for the highly coveted Concours Mondial de Bruxelles medals. The competition's fifty judges awarded silver, gold and grand gold medals to sparkling wines from 25 countries.
Champagne continues to excel
At this year's Sparkling Wine Session, Champagne confirmed the excellence of its wines. Many entries from the region came away with a medal in 2023. The international revelation trophy was awarded to Champagne Orpale 2008 by De Saint-Gall. The Orpale label is the brand's true icon. It is a single varietal Chardonnay from four Grand Cru classified villages in the Côte des Blancs. A high-end Champagne, it is classed as a gourmet food-friendly offering and makes the ideal partner for the finest dining experiences. The revelation trophy for France was also awarded to a Champagne – the Brut Millésime 2015 label, a Premier Cru from Jean Dumangin.
Cava scales the heights
It will come as no surprise but Cava, particularly its Penedès iterations from South of Barcelona, tops the awards list for Spain. One noteworthy example is the faultless performance by Catalan winery Vives Ambrós which picked up an incredible 3 Gold medals and the Spanish revelation trophy for its iconic Vives Ambròs Gran Reserva 2016, a blend of Macabeu – Xarel-lo matured for nearly 8 years in the winery's cellar.
Méthode Cap Classique finds its place
Marking a first in the history of the competition, a wine made according to the Méthode Cap Classique won a grand gold medal. The Désidérius Pongrácz brut label is a blend of 60% Pinot noir – which instils flint notes in the wine – and 40% Chardonnay, imparting distinctive body and flavour. The wine is made using the Méthode Cap Classique process, a term commonly used in South Africa – and also abbreviated to MCC – to refer to the traditional method of producing sparkling wines where a secondary fermentation occurs in the bottle. Only Chardonnay and Pinot noir can be used for this category of sparkling wine.
Franciacorta, Italian elegance
For Italy, the Franciacorta region garnered particular attention. The Italian revelation trophy was indeed awarded to the Satén Millesimato label by Fratus. This single varietal Chardonnay organic wine shows incredible finesse. The Franciacorta region is renowned for its production of elegant, quality wines made using mandatory traditional techniques. Again, there is a secondary fermentation in the bottle, time spent on the lees and maturation for at least 18 months under the DOCG classification.
View the awarded wines and revelation trophies here: https://resultats.concoursmondial.com/en/results