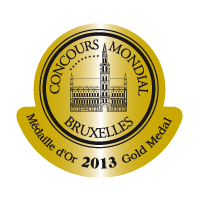 Attend an impressive showing of 2013 
Concours Mondial de Bruxelles award-winning wines
2013 was the year the Concours Mondial de Bruxelles travelled to Bratislava but it is also aVinexpo year.
During Bordeaux's premier trade show, the spotlight will be turned on award-winning wines during an exceptional tasting attended by a selection of producers from around the world who received an accolade at the 2013 Concours Mondial de Bruxelles (Gold and Grand Gold medals).
The tasting takes place Monday 17 June during Vinexpo at Tasting Lab 5, Hall 2. The event is open from 3pm to 6pm to all show visitors.
List of participants
Bulgary: Dives Estate Ltd. | Spain: Bodegas Casal de Arman, SL – Bodegas de Familia Burgo Viejo – Bodegas Dunviro Scoop – Gordonzello Sa – Pago de Ina – Pago los Balancines – Vallformosa Bodegas Con Origen – Bodegas Montealbellón | France: Champagne Bonnaire – Champagne de Castelnau – Champagne Desruets – Château de la Mingerie – Château de Lussac – Château de Parenchère – Château de Parnay – Château de Pressac – Château Gaillard – Château Joinin – Château Le Sarte – Château Léognan – Chatelier Jean-Michel – Coopérative des Six Coteaux – Coopérative des Six Coteaux – Diogène Tissier et Fils – Domaine Capmartin – Domaine de la Vallongue – Domaine Fairjal – Lestruelle – Maison Blanche – Marc Patrice – SCEA Cambon la Pelouse – SCEA de Lavaux – SCEA Du Clos de la Vicairie | Georgia: Winery Khareba | Italy: Az. Agr. Casale del Giglio SRL – Azienda Agricola Andreola – Azienda Agricola G. Milazzo – Cantine Settesoli Sca – Casa Vitivinicola Tinazzi – Gualdo Del Re – Le Fraine Sul Lago – Societa Agricola "Il Quadrifoglio" SNC | Portugal: Antonio F. Bonifácio & Filhos Lda – Casa de Vilacetinho Sociedade Agricola Sa – Bules Cruz Lola – Agri-Roncão | South Africa: Alvi's Drift Private Cellar – Asara Wine Estate & Hotel
Concours Mondial de Bruxelles Rue de Mérode 60
1060 Brussels – Belgium
T. +32 2 533 27 67 – F. +32 2 533 27 61
concoursmondial@vinopres.com
www.concoursmondial.com