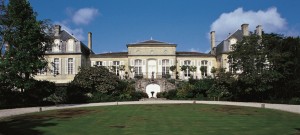 Afgelopen periode proefde Chris Alblas, door het Concours Mondial de Bruxelles met goud bekroond jurylid, veel wijnen van de Union des Grands Crus de Bordeaux. Graag maakt hij melding van een aantal zeer bijzondere smaaksensaties uit het oogstjaar 2010.
In de serie wit is dat zonder twijfel Château Olivier, Pessac-Léognan: Blend 75% Sauvignon 23% Sémillon 2% muscadelle.
Wat anderen schreven:
Score 90-92 Robert Parker
CHÂTEAU OLIVIER Pessac -Léognan 2010. The finest dry white I have tasted from Olivier is this crisp grapefruit, melon, citrus and chamomile-scented 2010 – Robert Parker
16.5 Drink 2013-2017 Jancis Robinson Strong
CHÂTEAU OLIVIER Pessac -Léognan 2010.  green/lime notes on the nose. Vivacious and well sculpted. Bone-dry finish. Quite juicy. Very clean and brisk and bracing – Jancis Robinson
In de serie rood maakten de volgende wijnen uit 2010 een zeer goede indruk:
Château Trotte Vieile, St. Emilion, Premier Grand Cru Classe B: gedomineerd door cabernet franc 58% en aangevuld met merlot.
Château Fourcas-Dupré, Listrac: cabernet sauvignon (44%), merlot (44%), cabernet franc (10%) en petit verdot (2%).
Château Citran, Haut-Médoc: cabernet sauvignon beslaat 58% van de 90 hectaren, en merlot 42%. Meer informatie:
Harvest : done by hand
Vinification, maturing and ageing
– Vinification in stainless steel vat temperature control by thermal pipe
– Length of vating around three weeks
– Traditional ageing of 12 months in oak barrels (40% new oak barrels each years)
– Fining in barrel with white of the egg
Château Kirwan, Margaux: Château Kirwan 2010 Such pleasure, such class!
Yield: < 43 Hl/Ha – Blending: 50% Cabernet Sauvignon ; 35 % Merlot ; 9 % Cabernet-franc ; 6% Petit Verdot. Vintage2010 comes out as an extremely complete wine: its freshness and aromatic purity bring an additional touch of brilliance to its velvety richness. Its superbly delicate nose, the savory balance it presents in the mouth and its intense finale all contribute to making this wine a perfect expression of the Kirwan terroir. In addition to the indulgent quality of its remarkable fruit, 2010 offers great aging potential. (informatie van de site van het château, maar wordt door proevers onderstreept)
Château Léoville Barton, Saint-Julien: 72 %  cabernet sauvignon, 20 % merlot en 8 % cabernet franc.