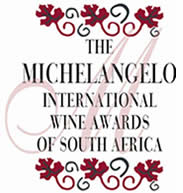 Afgelopen week vond in het proeflokaal van Romond Vineyards (Stellenbosch) de jurering plaats van de Michelangelo International Wine Awards.  De Arnhemse wijnexpert Chris Alblas (www.svbe.nl) kreeg ook dit jaar de gelegenheid een aantal dagen mee te proeven bij de wijnen en een ochtend bij de brandy's.
De overige juryleden:
1.Christoph Merchiers – Belgium,
2.Geoffrey Adams – United Kingdom,
3.Liam Campbell – Ireland,
4.Sherwin Lao – Philippines,
5.Ralf Bengel – Germany,
6.Joelle Thomson – New Zealand,
7.Timo Jokinen – Finland,
8.Dominique Rizzi – Luxembourg,
9.Sue van Wyk – Australia (technical director),
10.Christine Rudman – South Africa,
11.Christine Austin – United Kingdom,
12.Reva Singh – India,
13.Riccardo Margheri – Italy,
14.Andrej Ondrejmiska – Slovakia
15.Maria Katsouli – Greece.
A short history and background
The Michelangelo is unique in South Africa, in that only internationally accredited wine judges serve on the judging panels. (During the past 16 years more than 160 experts from 36 countries have served on the judging panels.) Judges are hand-picked from around the globe for their international experience, their judging proficiency as well as their credibility as wine makers, wine buyers, sommeliers and wine writers. This has ensured good publicity world-wide for our award-winning wines over the years as articles on the Michelangelo winners have, over the years, appeared in the electronic media and consumer magazines as far as North Europe, South America, Japan and India.
The owner and director of the Michelangelo is Lorraine Immelman, who also founded the company in 1997. She identified a need for South African wines to be adjudicated by international experts in South Africa, and, in consultation with international professionals in the wine industry, established the Michelangelo International Wine Awards.
The main aim remains the annual identification of the wines which will fare well in world markets. As a result local producers have, for many years, used the Michelangelo as a guide for their exports.
OIV Judging system
The Michelangelo has adapted the international 100-point judging system of the OIV (International Organisation of Vine and Wine).This system is considered very accurate as it allows each entry to be judged according to the varietal's characteristics based on sight, smell and taste.
The Michelangelo has experienced exceptional support among local producers (and increasingly from international producers) and is considered one of the top wine contests in South Africa with high credibility and transparency. Producers entering their wines appreciate the neutrality of the international judging panel as well as the fact that wines receive international recognition through the judges in their respective countries after the competition.
New MCC and Coffee Pinotage Trophies in 2013
The Michelangelo CCL Label International Wine Awards is proud to announce the introduction of two exciting new trophies to the 2013 competition. African Cellar Suppliers has come on board as sponsor for the Best Method Cap Classique Trophy and Toneleria Naçional with the Best Coffee/Mocha-Style Pinotage Trophy.
"Over the past decade the coffee style pinotage has increased in popularity, both with the consumer and producer. This style now needs to be recognised, in the same sense as South Africa's Methode Cap Classique which has shown exceptional quality over many years. These two styles offer the opportunity to showcase South Africa's uniqueness, variety and the quality of our wines. The new trophies will add value by recognising the industry's achievements," says Lorraine Immelman, owner and MD of the Michelangelo Awards.
Striving for world class MCC
African Cellar Suppliers has been affiliated with MCC production in South Africa from the start. During the early years the founder of ACS, Antonio de GouveiaSnr, imported bottles specifically for MCC for Frans Malan from Simonsig Estate in Stellenbosch. "ACS is very proud to be associated with the Michelangelo International Wine Awards and to be the sponsor of the MCC trophy. We believe this trophy will further support and reward the industry in it's strive to deliver world class MCC," says ACS general manager, Antonio de Gouveia. ACS has been supplying the wine industry with products including wire hoods, champagne foils, screw caps, barrels, crown caps, imported glass, chemicals, filtration aids, natural corks, technical corks and champagne corks for the past thirty years.
Uniquely South African
"The coffee-style pinotage is unique in that it is based on a truly South African cultivar. We could think of no better way to honour this style than to sponsor a Michelangelo Coffee/Mocha-Style Pinotage Trophy," says Toneleria Naçional's Commercial Manager for South Africa, Marinus Potgieter. "The coffee pinotage style was born from innovative thinking and the use of our wood. Quality is one of the cornerstones of our organisation and this trophy will reward like-minded producers and assist to establish this style."
According to Bertus Fourie the coffee style pinotage is currently the fastest growing category in the wine industry. Fourie was the first winemaker to produce this style way back in 2001 while working at Diemersfontein and studying for his Master's Degree in Oenology at the University of Stellenbosch. "I have seen it all over the world during trade shows presenting this style… people insist that they do not drink wine, or red wine, but then literally fall in love with this style. It is a consumer-friendly and generous style,' says Fourie.