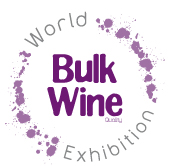 This year, the World Bulk Wine Exhibition will gather more than 170 wineries from the entire world that will launch their wines to thousands of attending international importers and purchasers. The great meeting for the wine business holds its fifth edition and is sold out nearly two months before the event, which promises to be the most successful and international edition since its start.
With 47 attending wineries, France will once again be one of the countries with the highest representation at the exhibition, with the participation of large producers such as Valorbieu/Uccoar, Producta, Men in Bulk and the Cooperative Languedoc Roussillon, which groups 16 wineries from that region.
With 22 participating wineries, Italy will also be one of the countries with extensive representation at the event. Some of those Italian wineries are among the largest producer companies in Europe, for example: Gruppo collis, Ce.vi.co, Cantina di Soave, Caviro, Cantine dell'Ancellotta, or Consorzio Vini d'Abruzzo.
Other regions that will have an important representation are Spain, Italy, Argentina, Chile, Australia or South Africa. At the same time, wineries from Liechtenstein, United States and Uruguay will be present again. As a key novelty, we would like to highlight that producers from Canada, United Kingdom, Montenegro, Moldavia and Bulgaria will present their wines for the first time this year.
The event is a privileged and unique opportunity for international purchasers to find out an offer exceeding 30 million hectoliters and to discover firsthand the wide range of wines that this last harvest has produced on the five continents over a period of two days in an exclusively professional environment.
The World Bulk Wine Exhibition is reserved to professionals who commercialize large volumes of wine. This meeting focuses on commerce, but does not forget relevant aspects such as debate and discussion. Pertinent topics are discussed via the Conference Panel, which this year is called: "Which wines do consumers prefer? A journey across the favorite varieties and wines of consumer countries".
Another novelty of this edition will be the creation of a cooking show area, where the Galician chef Francisco Piñeiro will let his imagination run wild and will propose dishes inspired by the wine regions of the participating countries. Here are some examples of the creations that the attending professionals will be able to taste:
– White Pickled Baby Vegetables and Eel (Typical Smoked Eel fromthe Netherlands)
– Fresh Sprouts, Gouda, Red Tuna and Wine Aspic Salad
– Charcoal-grilled Octopus with Sweet Garlic Sauce Powder
– Glazed Oxtail Press (typical dish from Spain)
– "La Chilena" Ceviche (Chile)
– Fried Mini-Pizzas from Naples stuffed with Seaweed (Italy)
– Truffle Foie Bites with bean sprouts and sweet wine reduction (France)
– Kangaroo with Pistachios and Quince Sauce (New Zealand)
WORLD BULK WINE EXHIBITION
The World Bulk Wine Exhibition offers an exclusive place to show and discover the best bulk wines worldwide, just after the end of the grape harvest.
During the past edition, the World Bulk Wine Exhibition brought together 130 producer companies from 11 different countries and, during only two days, they had the possibility of presenting their products to more than a thousand buyers and 4000 visitors who came from more than 40 different countries. In short: an acquisition capacity of nearly 20 million hectoliters.
The 5th edition of the World Bulk Wine Exhibition will be held on the coming 25th and 26th of November at the Amsterdam RAI.