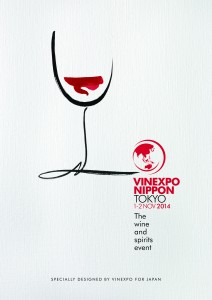 Vinexpo builds on its presence in Asia-Pacific 
launching Vinexpo Nippon in Tokyo
Vinexpo is launching Vinexpo Nippon, a new exhibition exclusively for the Japanese wine and spirits trade. The first show will be held in Tokyo on Saturday 1st and Sunday 2nd November 2014 at Prince Park Tower in the capital's business quarter.
An exhibition made to measure 
Designed specifically for professionals working in the Japanese market, Vinexpo Nippon will host 200 international exhibitors with 2,400 sq. m (21,500 sq. ft) of stand space. This new B-to-B exhibition format, which is more concentrated than the Hong Kong and Bordeaux shows and scheduled for just two days, has been conceived with a view to making it as easy as possible for exhibitors to take part with turn-key stands, customised services and the involvement of importers. Exhibitors can therefore opt to be present using their own name or appear under the banner of their importers.
Supported by Japanese professionals
Vinexpo Nippon has been supported by key Japanese players in the wine and spirits sector. Around ten importers gathered to support the exhibition some months ago and will promote the show throughout Japan. The event will benefit from all Vinexpo's expertise in organising exclusive international shows, as well as its deep knowledge of the market.
A market with promise 
Japan is the third largest world economy after the U.S. and China and its population enjoys amongst the highest standards of living and levels of development on Earth.
A major sector in this economy is the Japanese wine and spirits market, which is one of the liveliest in Asia-Pacific having achieved 19.3% growth between 2008 and 2012. Japan is the leading Asian importer of spirits and the second largest importer of wines. There are a total of 178,000 sales outlets in the country.
Tokyo, a unique city 
The Japanese capital is a powerful magnet that irresistibly attracts more and more visitors to its many charms. It has very effective public transport and communications networks which make it easily accessible. Tokyo also has the reputation for being one of the safest and cleanest cities in the world. Tokyo is a gastronomic paradise too with more Michelin starred restaurants than Paris, London or New York!