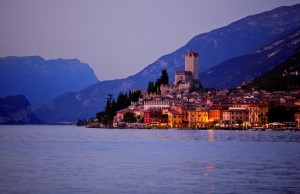 THE TASTES OF LAKE GARDA, PASTA AND MICHELIN-STARRED CHEFS: ITALIAN CUISINE SHINES IN MALCESINE 
From 1st  to 6th May there will be a whole host of exciting features on offer on the shore of Lake Garda, from grand dinners to street food, but also shopping and hospitality.
The stars of Italian cuisine will be shining at Fish & Chef: from 1 to 6th May this event will bring the very best of our traditional food and wines to Malcesine, on the Veronese shore of Lake Garda. Some of Italy's top chefs will give their own personal interpretations using specialities of the area such as fish from the lake, Garda D.O.P. Extra Virgin Olive Oil, herbs from Mount Baldo and the tender meat from the Consortium for Garonnais cattle, without overlooking the delicious Monte Veronese D.O.P. cheeses.
Fish & Chef is an all-embracing event that takes in the world of taste, shopping, and lots more besides.
Food stalls with typical local products will be set up in the centre of little town on the Veronese shore of Lake Garda.
Special packages will be arranged for those who choose to stay in this beautiful town on Lake Garda during the period of the event.
Information for the public: www.fishandchef.it
Bookings for the dinners have to be made directly with the hotels at which they have been organised.