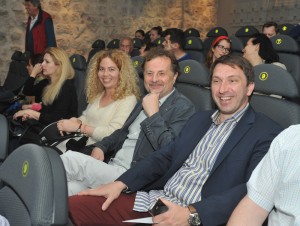 Excellent documentary Dossier Zinfandel by HRT was shown last night at 07,30 pm at Visia theatre.
Mr. Vedran Benić, the director of HRT Dubrovnik centre, addressed the audience telling that he, personally, as a journalist and wine enthusiast talked numerous times to Mr. Mike Grgich, one of the documentary's protagonists. During their conversations he asked about measuring wine quality of a region, to which he replied that it is measured by how lousy it is. Therefore, the key to success is mutual assistance and that is what Mr. Benić encouraged wine makers to do to achieve best possible results. Finally, he wished everyone to enjoy the film.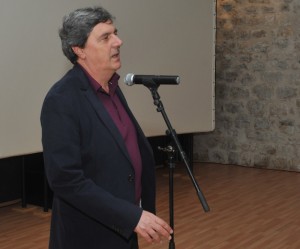 Vice prefect Davorko Obuljen greeted participants on behalf of Dubrovnik-Neretva County, highlighting the county's efforts suggested by Development strategy to promote wine and wine making. He concluded stating that everyone visiting our county should and would have to enjoy exquisite wines we have.
Dossier Zinfandel documentary talks about history of ''mysterious vine'' that arrived to America in 19th century intriguing scientists, wine makers and enthusiasts with its unknown origin for nearly 180 years.
As a result of forensics and DNA analysis, cooperation of American ''wine detective'' dr. Carol Meredith, University of Agronomy's professors Edi Maletić and Ivan Pejić, in 2001 a sensational discovery appeared: Zinfandel is Croatian Crljenak Kaštelnski!
At April 25th, Prof. Dr.sc. Edi Maletić, one of the leading Croatian scientists in discovering this genetic mystery, will have a presentation on a topic of ''Old sorts for new European wines'', in Visia theatre. Professor Maletić is also a co-author of Viticulture and wine making development strategy of Dubrovnik-Neretva County.
Some of the people that appear in the documentary and helped solving the mystery are: A famous wine maker Miljenko Mike Grgic, a winner of historical Parisian wine tasting in 1976., was the first one indicating possible Croatian origin of the most popular American sort, zin-masters (supreme wine makers) Joel Peterson and Paul Draper, and historian Charles L. Sullivan.
After the projection of Dossier Zinfandel documentary, judges of Dubrovnik FestiWine Trophy 2014 were hosted by 360° restaurant, and they were served FestiWine menu, with which this restaurant got involved in Dubrovnik wine week, gaining FestiWine Friendly label.