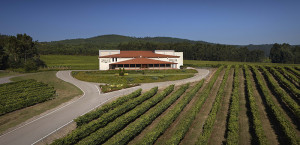 TERRAS GAUDA CHOSEN FOR FULL MEMBERSHIP BY THE LEADING BRANDS OF SPAIN ASSOCIATION, TOGETHER WITH THE 100 LARGEST COMPANIES WITH INTERNATIONAL STANDING
The Terras Gauda Group has become a full member of the Leading Brands of Spain Association, a strategic public-private alliance made up by the most important Spanish companies, leaders in their respective sectors and with international standing.
Recently, the Board of Directors unanimously approved the inclusion of the winery in this new category, since it has formed part of MAPI (International Brands with High Potential) Club since 2011.
The goals of this organization are to highlight the importance of the brands and companies for the Spanish economy, raising awareness about the importance of internationalization and making a firm commitment to brands as the main asset for business competitiveness. It also aims to contribute to increasing the prestige of the country's image abroad through the "Spain Brand" initiative.
Terras Gauda is the only Galician winery to belong to this alliance, of which companies such as Zara, Banco Santander, BBVA and Repsol are also members. The more than 100 companies represented have a combined billing that accounts for 40% of Spain's GDP and directly employ more than 1.5 million people.
The Leading Brands of Spain Association forms part of the Leading Brands of Spain Forum Foundation, along with the Ministry of Industry, Energy and Tourism, the Ministry of Foreign Affairs and Cooperation and the Spanish Patent and Trademark Office (OEPM) and the Spanish Institute for Foreign Trade (ICEX), both of which are public institutions.
The organization, founded in 1999, plays an important role in promoting economic and social aspects of Spain's image as an element to promote and facilitate the competitiveness of companies in their international expansion, with the aim of contributing added value to their products and services.
Terras Gauda's membership in this association represents recognition of its internationalization strategy and the company's growth, which have enabled it to position itself in 52 markets around the world.
The USA, UK, Norway, Germany, Holland, Belgium, Brazil and Mexico are the main markets abroad for the TERRAS GAUDA Group (Terras Gauda, Quinta Sardonia and Pittacum Wineries).In recent months, they have begun exports to Uruguay, reinforced their sales network in Russia, Germany and Finland and consolidated their distribution in China, with the signing of a new importer.