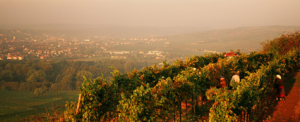 Beautiful weather during the flowering period and sufficient rainfall during the Summer months set the stage for very good results so far in 2014: after a number of small harvests, a total volume of 2.5 million hectoliters – somewhat higher than the long term average – is expected. Assuming that meticulous care was employed during the generally wet vegetation period over the last few weeks, beautiful and healthy grapes will ripen to an outstanding vintage overall.
"Low humidity and moisture in the Winter and the absence of rain during Spring originally caused great concern about drought stress and drought damage in many vineyards", said Johannes Schmuckenschlager, president of the Austrian Wine Growers Association.  "But at the same time a relatively early bud break and wonderful flowering lead to a vegetation headstart in Spring."
Heavy amounts of rain during the Summer months along with constant high humidity changed the vegetation strongly. Meticulous care in the vineyards was necessary in order to keep them healthy. Also, the early start of the vegetation process from such a beautiful, dry Spring was basically lost – and the ripening process is now similar to that in 2013. All wine growing regions are now hoping for dry and beautiful late Summer-Autumn weather to avoid any potential rot. Then nothing would stand in the way of an exceptional vintage.
Hail: Heavy damages in some areas
Despite the many Summer rainfalls, fewer hailstorms were recorded in the wine regions than in the previous years. Nevertheless, there were a number of significant localised hailstorms. Particularly noteworthy was a strong hailstorm that took place in Vienna in the early Summer, resulting in heavy vine damage on the Nussberg. There were some hailstorms also in the wine growing areas of Burgenland. In particular, the community of Wallern recorded five somewhat significant hailstorms.
More white wine, less red wine
The estimated harvest amount of 2.5 million hl coincides with the initial forecasts made by Statistik Austria. Yield reduction refers to massive fungal damages from powdery mildew in some regions, especially in the north of the Weinviertel and around the Neusiedler See. The higher amount of wine – in comparison to last year's amount – is based mainly on a bigger white grape harvest in Niederösterreich, where there were serious flowering problems over the past year, especially with the Grüner Veltliner variety. This year's red grape harvest could be smaller than last year's.
The picking of the grapes for most and sturm have already begun around the Neusiedler See. The main harvest will start in Burgenland in mid-September, and in Niederösterreich and Steiermark at the end of September.
"Over the past decades, there have been a number of vintages that had similar weather conditions to those of 2014, such as 2006, and that delivered excellent quality," said Willi Klinger, managing director of the Austrian Wine Marketing Board. "It is important that the knowledge and experience of the local winemakers is very high in dealing with difficult harvesting conditions, and that the harvest is carried out through several pickings. Also, it would be very gratifying for us if this year's harvest would reach 2.5 million hl, as this is a prerequisite for further Austrian export success."