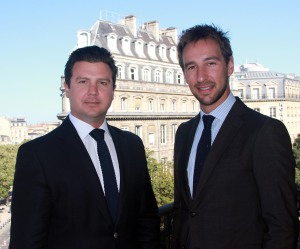 Vinexpo, the world's leading wine and spirits exhibition, has appointed two new directors: Mathieu Vanhalst, who heads up sales and Richard Guyon, who is to lead the marketing department.
Mathieu Vanhalst takes over Vinexpo's sales department having benefited from 7 years' experience in TFWA (Tax Free World Association), which organises the duty free and travel retail exhibitions in Cannes and Singapore. At 33 years of age, he has built a solid background in events organisation and wines and spirits, which he will put to good use at the helm of Vinexpo's sales development in France and internationally.
Richard Guyon joined Vinexpo as Marketing Director. Aged 35, he comes with his experience of the premium hospitality and tourism sector gained from working for the renowned Relais & Châteaux network. A graduate of Ecole Hôtelière de Lausanne, his sound knowledge of the luxury sector will stand him in good stead in promoting the Vinexpo exhibitions with its visitors and improving their experience when they attend, in setting up strategic partnerships and in organising special Vinexpo evenings.
These appointments have been made during a development phase of Vinexpo exhibitions in France and worldwide. The first Vinexpo Nippon is to be held in Tokyo on 1st and 2nd November 2014. The next Vinexpo exhibition in Bordeaux will take place from 14th to 18th June 2015 and will feature some significant changes.