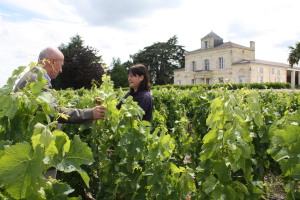 The harvest at Château Montrose, one of the first Médoc estates to start picking red grapes, lasted 17 days in several stages between 15 September and 15 October.
The planted-in Merlot matured early. Representing about 2 hectares (5 acres) of young vines across the vineyard as a whole,  they produced a perfectly ripe crop ready for picking in mid-September. Once all the Merlot had been gathered,  and following a break from 2 to 5 October, we were able to start harvesting our main Cabernet Sauvignon crop at ideal maturity.
The benefits of a late summer
The long-awaited summer finally arrived in triumph in September, barely moistened by a little light rain around 2 October. These showers, even scarcer at Saint-Estèphe than in the rest of the Bordeaux region, accelerated the ripening process at just the right time.
A few days before the end of harvesting, estate manager Hervé Berland (picture@DR) gave his initial impressions of the vintage, the first tastings of which recalled glorious predecessors.
[ If only we could enjoy the same conditions at harvest time every year! We had all the time we needed to do our work properly: waiting for each parcel to reach ideal maturity meant that picking was spread evenly over the whole of the harvest period. As a result, the entire crop was harvested in perfect health at exactly the right time for each grape variety and each parcel.  The grape skins were richly coloured and thicker than usual. The colour was released rapidly at the start of vinification, dark and very dense, with very mature, very fine tannins. The wines we are starting to taste in the vats confirm a remarkable potential for refinement and elegance. It is still too early in the winemaking process to come to any definite conclusion about the vintage, but we should not be too far off the very best.]