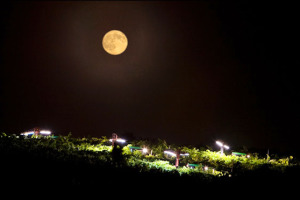 Earliest and Third in a String of Great Vintages this Decade
SAN FRANCISCO — California vintners and growers across the state are grateful for another excellent vintage, despite an ongoing drought and earthquake that rocked south Napa in late August just as crush was getting underway. A mild winter and spring caused early bud break, although the overall length of the growing season was similar to past years. A compacted harvest began in July for sparkling wines and started winding down by mid-October for later ripening varieties. Moderate temperatures, with only minimal rain in September, allowed for even ripening.
According to the United States Department of Agriculture Pacific Regional Crop Production Report of August 2014, California's winegrape production this year is forecast at 3.9 million tons, down 8 percent from 2013's record high crop. The 2014 harvest is the third largest on record.
"We are about 80 percent done, going into the second week of October," said Glenn Andrade, vice-president winemaking for Trinchero Family Estates, farmers of more than 10,000 acres of vineyards across Napa, Sonoma, the Central Coast, Lodi and Amador. "We've had pretty light to moderate yields this harvest, resulting in exceptional quality. Our Amador Zinfandels are amazing—great intensity and quality. We should be done by the week of October 20, which is early for us, as typically, it's the first week in November."
"The 2014 vintage was by far the earliest start of any harvest I can recall," said Adam Mettler, director of winemaking for Michael David Winery in Lodi. "Early concerns about adequate storage quickly faded as our vineyards continued to check in at 20-25 percent down in volume from the previous two years. The moderate crop size allowed for rapid sugar accumulation early, which created some challenging high-density fermentations, but resulted in some real nice wines."
Renee Ary, winemaker at Duckhorn Vineyards in Napa Valley is also very pleased with the vintage. "2014 will be noted as one of the earliest vintages in over a decade, but it will also go down as one of the best. Challenged by drought, an earthquake, rain, hail and significant heat, you would think there would be a lot of obstacles to navigate, however the timing of the events paired with some planning allowed us to dodge these curveballs and land another fantastic vintage. Tannins are in check and berries are small, which is translating into great balance and concentration in the cellar. Yields and quality are above average across all varieties, and I am anticipating a lot of beautiful 2014 wines to come."
"Quality is outstanding," echoed Chrissy Wittmann, winemaker at Wild Horse Winery & Vineyards in Paso Robles. "There are small berries with good tannin and color release on the reds, and flavorful fruit with bright aromatics on the whites. Now, we are in the home stretch, with this latest heat wave pushing the last of the hanging grapes into pick mode."
"The 2014 vintage was phenomenal for Wente Family Estates and Livermore Valley," exclaimed Karl Wente, fifth generation winemaker for the family winery.  "We had outstanding color, the extractions were fantastic and we had great fruit character throughout. The lack of late-season rain and a long growing season helped ensure optimum fruit maturity."
In Sonoma County, there were more accolades for the vintage from Corey Beck, president and director of winemaking at Francis Ford Coppola Winery.   "In the past 17 years that I've been with Coppola, this has to be the best vintage I've ever seen. I remember saying that about the 2013 vintage, too. We've been so fortunate to have two back-to-back phenomenal harvests. We buy grapes from a variety of growers in various sub-appellations throughout Sonoma County, and to see that level of quality and consistency in each of the diverse varieties across the region is remarkable. The Chardonnay grapes were supple and succulent; the Cabernets were deep and complex—across the board, it's a great vintage."
"We are very pleased with the assessments of an exceptional 2014 vintage for California wine statewide," said Robert P. (Bobby) Koch, president and CEO of Wine Institute. "And we look forward to sharing these outstanding 2014 wines with wine lovers throughout the nation and the world. Although we came through this harvest without major impact, we're keenly aware of the ongoing drought and its effects on California's entire agricultural community, including wine. We are doing our part as vintners and growers to mitigate water usage through a variety of sustainable practices."