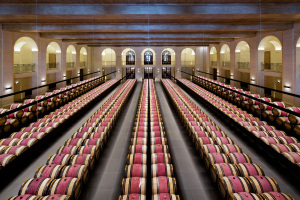 On 18 June 2015 Château Montrose will host the Fête de la Fleur,
celebrating the 200th anniversary of its exceptional vineyard 
In 1815, Étienne Théodore Dumoulin planted the Château Montrose vineyard.
In 2006, Martin and Olivier Bouygues acquired the estate.
A barrel hall like a cathedral for a thousand international guests
Having completely renovated the estate, the owners of Château Montrose have chosen to host the Fête de la Fleur in 2015.
It is in their entirely renovated property, with the 18th-century jewel of the premium wine barrel hall as its centrepiece, that, on 18 June, they will welcome over a thousand guests for the prestigious and very traditional reception that brings Vinexpo Bordeaux to a close.
An international occasion to celebrate the 200-year history of an exceptional vineyard
Organised since 1949 by the Commanderie du Bontemps and presided over by its Grand Master Emmanuel Cruse, the Fête de la Fleur celebrates the flowering of the vine.
It will also coincide with the commemoration of the 200-year history of the exceptional Château Montrose vineyard.
It will be an opportunity for Mélissa Bouygues, president of Château Montrose, and Hervé Berland, manager of the estate, to present it to the distinguished guests, whether wine professionals or fine wine lovers, at this legendary and unmissable international event.