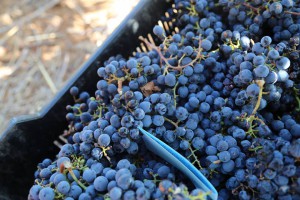 Smaller, high quality wine grape harvest from early season
The South African wine industry will remember the 2015 season as one of the driest and earliest in years, with a somewhat smaller wine grape harvest promising exceptional wines.
According to regional viticulturists of VinPro – the representative organisation for close to 3 500 wine grape producers and cellars – this year's harvest kicked off two weeks earlier than usual.
"The 2015 harvest had the earliest start in decades. Warm weather in August resulted in earlier bud break, after which a warm, dry and windy summer kept vineyard growth under control and accelerated ripening by approximately two weeks," said Francois Viljoen, manager of VinPro's Consultation Service. The dry weather also led to one of the healthiest seasons in years, with almost no losses due to diseases or rot.
The total harvest is expected to be 1% – 2% smaller than the record harvest in 2014. The Worcester region harvested the largest wine grape crop in the area's history, with Robertson also realising a larger harvest. The intake of wine grapes in the Orange River, Olifants River and Breedekloof regions was close to the same as in 2014 and somewhat smaller crops were harvested in the rest of the regions.
Dryland vineyards in the coastal regions were affected by water shortages due to the drier weather conditions. A channel break in the Olifants River region during January did not have a substantial effect on its production.
South Africa is the seventh largest wine producer globally and produces 4% of the world's wine. Close to 52% of the country's natural wine is exported and 48% is sold locally.
Commenting on the harvest, Siobhan Thompson, CEO, Wines of South Africa, said: "The wines from our 2015 harvest are set to cement South Africa's position as the most exciting wine producer in the world. The wave of optimism around the quality of South African wines will only continue and we're excited to be able to showcase this great vintage during our forthcoming trade show, Cape Wine, this September. Our winemakers are gearing up to show visitors from across the globe some of the best wines South Africa has ever produced."
Total crop size:
The 2015 wine grape crop is expected to reach 1 502 360 tons according to the latest estimate (30 April 2015) of the South African Wine Industry Information and Systems (Sawis). It is 1.1% smaller than the record harvest in 2014.
The 2015 wine harvest – including juice and concentrate for non-alcoholic purposes, wine for brandy and distilling wine – is expected to amount to 1 164.9 million litres, calculated at an average recovery of 775 litres per ton of grapes.
2014/15 Growing season:
Good reserves were accumulated during the post-harvest period in April and May, after which leaf fall generally occurred at the right time. A cold, wet winter led to the accumulation of sufficient cold units for the full breaking of dormancy, which contributed to even bud break.
Warm weather in August resulted in earlier bud break. A warm, dry and windy summer followed, keeping vineyard growth under control and accelerating ripening by approximately two weeks, which brought the harvesting season forward by two weeks.
With the absence of the usual heat waves in most regions, cooler than usual weather in February was ideal for ripening and harvesting. Lower temperatures at night during this time contributed towards good colour and flavour in especially the red cultivars.
Temperatures warmed up again during March, which led to the harvest ending close to two weeks earlier than usual in most regions.
Although the dry, warm conditions – and especially a lack of rain at the beginning of November – necessitated additional irrigation, the dry weather during the harvest time was ideal to ensure healthy grapes without diseases or rot.
Wine potential:
"Save up, beautiful wines are on their way!" said Viljoen. Exceptional wines are expected throughout the cultivar spectrum, and some winemakers laud this year's harvest as one of their career highlights.
Grape analyses were good, with low pH and good acidity and sugar levels, which form the foundation for high quality wines.
Smaller berries, as well as moderate temperatures during the harvest time led to good colour and intense flavour in this year's red wines. White wines are also of above average quality, with good wine analyses and flavour spectrums.
Overview of the regions:
Breedekloof – One of the best harvests ever in terms of quality, with a relatively large crop as bonus.
Klein Karoo – An unusually early, healthy season brings a high quality, but smaller harvest.
Malmesbury/Swartland – This dryland region's crop decreased, but smaller berries promise remarkable quality.
Olifants River – Exceptional grape analyses and colour due to a more moderate summer; the same crop size as in 2014.
Orange River – A good harvest of the same size as in 2014, despite limited frost damage and heat waves.
Paarl – After kicking off very early, a smaller harvest of very high quality was taken in.
Robertson – A bigger harvest than in 2014, with exceptional quality wines.
Stellenbosch – Although somewhat smaller, this was one of the best, if not the best, harvests in years.
Worcester – The largest harvest in the region's history, producing very good wines.
See www.vinpro.co.za for the full harvest report per region
Visit www.CapeWine2015.com for information on the show
PHOTO ABOVE:
Harvest time kicked off about two weeks earlier than normal. (CREDIT: Loriane Grobbelaar)