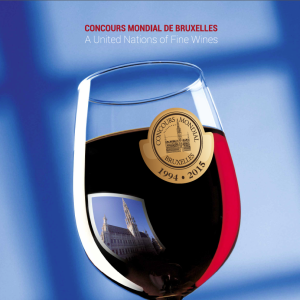 The results of the 2015 Concours Mondial de Bruxelles have just been released. Once again, the competition has revealed critical insight into the latest trends within the world of wine, providing a snapshot of the global industry that is updated annually.
This year, the competition resumed its tour of Europe's leading wine regions, travelling to the Italian seaside resort of Jesolo on May 1, 2 and 3. Over 8,000 wines from 45 producer countries competed before a selection of the world's foremost tasters. Sommeliers, buyers, importers, journalists and wine writers – in all, 299 wine tasters representing 49 nationalities gathered for 3 days to judge entries. The diverse range, both of entries and backgrounds of the tasters themselves, is one of the archetypal features of a competition that in just a few years has emerged as a world wine 'tasting championship'.
To provide consumers with a reliable buying cue, three types of medals were awarded: Grand Gold, Gold and Silver. The results can be accessed via the competition's website: http://results.concoursmondial.com/. In addition to medals, the competition also awards special prizes to wines scoring highest in their category:
Best Sparkling: Champagne Charles Heidsieck Rosé Millésimé 1999 (France, Champagne)
Best White: Kleine Zalze Family Reserve Chenin Blanc 2013 (South Africa, Stellenbosch)
Best Rosé: Cote des Roses 2014 (France, Languedoc-Roussillon)
Best Red: Nican 2008 (Italy, Abruzzo)
Other special awards:
Best Cava: Juvé & Camps Reserva de la Familia Gran Reserva Brut Nature 2010
Best Spanish wine: Muro Reserva 2006 (Rioja)
Best Chilean Wine: Sol de Chile Reserva Cabernet Sauvignon 2014 (Valle del Maule)
Best Portuguese Wine: Quinta da Sequeira Grande Reserva Tinto 2009 (Douro)
Best French Wine: Château Grand Pontet 2012 (Saint-Emilion Grand Cru)
2015 Revelations:
Portugal: Kopke Porto 1941 (Port Colheita)
Saint-Marin: Sterpeto 2009 (Vini Tipici Di San Marino)
Italy: Sichivej 2011 (Piedmont)
Croatia: Korlat Merlot 2011 (Dalmatinska Zagora)
United States: Beringer Founders Estate Chardonnay 2012
Macedonia: Kamnik Cuvée de Prestige 2013 (Povardarski)
The 23rd Concours Mondial de Bruxelles will take place from April 29 to May 1, 2016 in Plovdiv (Bulgaria), providing a unique opportunity to discover the extensive array of Bulgarian wines on offer and the magnificent city of Plovdiv, cultural capital of Europe in 2019.
Founded in 1994, the Concours Mondial de Bruxelles has since then achieved the status of a world wine tasting championship. The 8,000 plus wines competing from around the globe represent combined sales of several hundred million bottles.
Since 2006, the Concours Mondial has broadened its international scope and is held outside Belgium. Lisbon, Maastricht, Bordeaux, Valencia, Palermo, Luxembourg, Guimarães, Bratislava and Jesolo have all provided prestigious backdrops for the tastings.
The trade-only judging panel at the Concours Mondial de Bruxelles gathers together 299 of the world's foremost professional judges. It represents 49 nationalities and this diversity contributes to the uniqueness of the event.
At the end of the competition, only those wines that have achieved the highest scores are eligible for the prestigious medals, providing consumers around the world with a reliable buying cue.
Full results of the 2015 Concours Mondial de Bruxelles are available at: http://results.concoursmondial.com/