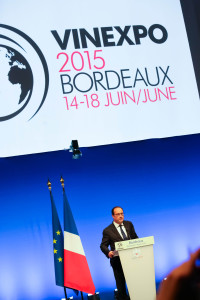 © Vinexpo – Philippe Labeguerie
The President of the French Republic, François Hollande, has officially inaugurated the 18th edition of the Vinexpo exhibition in Bordeaux
This morning, Vinexpo, the international venue for the wine and spirits industry, had the honour to welcome French President François Hollande. It was the first time in the history of the exhibition that Vinexpo was inaugurated by the head of the state.
"Today Bordeaux is not only the Capital of the region," declared the President of the Republic. "It is an exhibition venue for the whole of France, the Capital of the World of wines and spirits. I came to Vinexpo to meet the actors of an industry that represents the excellence of the French 'art de vivre.' We must sustain the industry's growth and its position worldwide: We are the number one and we need to remain it."
The exceptional welcome of the French President at the opening ceremony, which started at 10:30 a.m. at the Palais des Congrès (Convention center), underlined the support of the French State to the wine industry and acknowledged the essential role of the Bordeaux-based exhibition in the animation of this major economic sector.

© Vinexpo – Philippe Labeguerie
François Hollande was welcomed by Alain Juppé, Mayor of Bordeaux, President of Bordeaux Métropole and former Prime Minister, and Alain Rousset, President of the Aquiatine Regional Council  and Deputy of the  Gironde.
The President of the Republic was accompanied by Stéphane Le Foll, Minister of Agriculture, Agrifood and Forestry.  Matthias Fekl, Secretary of State in charge of foreign business, was also part of the delegation.
Xavier de Eizaguirre, President of Vinexpo, opened the conference and reinforced the mission of Vinexpo, which it has held since the wine and spirits trade show's inception in 1981.
Following the opening ceremony, François Hollande visited Vinexpo and met diverse actors of the trade. The President spent more than one and a half hours visiting the exhibition.
Global Influence
A major professional event of the international wine and spirits trade, Vinexpo gathers 2,350 exhibitors from more than 42 countries. More than 45,000 buyers from 120 nations are expected to attend during the five days of the event. An unparalleled audience makes Vinexpo the worldwide showcase and number one exhibition for wines and spirits in the world.
About Vinexpo
Founded in 1981, Vinexpo has evolved into the world's leading show for wine and spirits professionals and a partner for the wine and spirits industry worldwide. Vinexpo is held in Bordeaux in odd-numbered years; since 2006, Vinexpo Asia-Pacific has taken place in Hong Kong in even-numbered years and has become the key exhibition of the industry in Asia. Before each exhibition, Vinexpo commissions studies on industry-specific issues and presents the findings in conferences around the world. Since 1999, it has produced a world market study with a five-year outlook, as well as a variety of trend reports.  For more information, visit www.vinexpo.com.