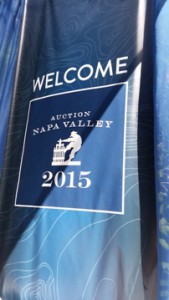 The Chair's Lot from honorary Auction Chairs Opus One and the collaboration of the Primum Familiae Vini became the auction's highest grossing of all time when it was tripled and sold to three bidders, bringing in a total of $2.4 million. Each winner will enjoy a 35-year vertical wine collection of Opus One magnums, plus a two-week tour and visits to the Primum Familiae Vini. The eleven families who form the Primum Familiae Vini (PFV) association – Marchesi Antinori, Château Mouton Rothschild, Joseph Drouhin, Egon Müller Scharzhof, Famille Hugel , Champagne Pol Roger, Famille Perrin, Symington Family Estate, Tenuta San Guido, Torres and Vega-Sicilia- are delighted with this success and congratulate the organizer from the Auction Napa Valley. Thanks to the generosity of the members in creating outstanding lots and the bidders who come from all over the world to experience Auction Napa Valley, the money will be invested in the areas of community health and children's education.
We are grateful to the auctioneers and to all the participants at the Auction Napa Valley. This record amount raised for such an important charity reinforces the determination of all the members of PFV to continue to support international charitable events with Passports and cases that contain some of the most prestigious wines in the world.
The Primum Familiae Vini special Collection Case contains one bottle of the finest flagship wine of each member currently available. The collection case has been presented in the past to selected world leaders including H.M. King Juan Carlos I of Spain and H.M. King Carl Gustaf XVI of Sweden.
Auction Napa Valley is the Napa Valley Vintners' (NVV's) annual community fundraiser that for nearly 35 years has utilized the worldwide reputation of Napa Valley wines and the scenic beauty of the region to raise funds to enhance the health and wellbeing of the Napa Valley community. To date, the NVV has invested more than $145 million from Auction Napa Valley proceeds in Napa County nonprofit organizations.