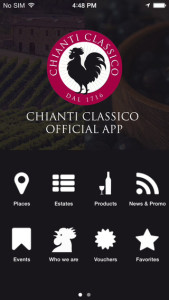 The Chianti Classico wineries become interactive with the official app just launched by the consortium in collaboration with The Big Now and Makeitapp agencies
In partnership with Expo 2015 the historic Tuscan consortium launches the new Chianti Classico app designed for all the lovers of wine tourism that each year visit Chianti territory to explore its many wineries and taste their premium products. Ideated and created by The Big Now creative agency together with the Makeitapp startup, the app has an incorporated proximity marketing function and is available free of charge for iOS and Android devices.
Tavarnelle in Val di Pesa (Florence). A new way to spread knowledge of Chianti Classico around the world but above all a tool designed to provide the finest experience of Black Rooster production territory to the many tourists and wine-lovers who every year come to Chianti, attracted by its products and their places of birth. This was the main brief that the Chianti Classico Wine Consortium entrusted to The Big Now creative agency (www.thebignow.it) and to Makeitapp (www.makeitapp.com), a leader in developing mobile and proximity marketing ideas, to create and develop its first "Chianti Classico" app, available free of charge for smartphones and tablets using Apple, Android and Windows Phone platforms.
Designed to be a real personal assistant able to guide users through their exploration of fascinating Chianti Classico territory and its prestigious wines, the new "Chianti Classico" app also provides information on the main points of interest and the events being held throughout the year.
The app was created in the context of a broader project of communicating Italian wine & food excellence during the EXPO 2015 period, for which the Chianti Classico Wine Consortium received the support of the Italian Food, Farming and Forestry Ministry. In fact, the new app is devoted to the projects that the Black Rooster is developing at its Radda in Chianti headquarters (www.casachianticlassico.it), until October the venue for "Black Rooster EXPO at Radda in Chianti", a series of events inspired by the main themes of the Universal Exposition.
The new Chianti app is accompanied by an innovative proximity marketing platform enabling all owners of the app visiting wineries that use Beacon technology to get special offers, additional information and more details about the products they are tasting via their devices.
An innovative tool at the service of one of the world's finest wine denominations, protected and valorized by a consortium that with more than 600 members (about 350 of them bottlers) now represents 95% of the entire appellation. Deriving from this Italian wine excellence is a socio-economic system able to generate "big business" figures with total sales estimable as more than 600 million euros, bottled wine revenue of about 360 million euros and olive oil production worth 10 million.
Apple Store https://itunes.apple.com/us/app/chianti-classico-official/id1005618287?mt=8
Google Play https://play.google.com/store/apps/details?id=com.makeitapp.ChiantiClassico