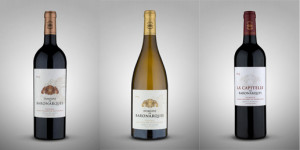 "After Opus One and Almaviva, we are back home in Languedoc, but always with the same ambition: a highly promising terroir (…) embodied by a very great wine," – Baroness Philippine de Rothschild.
ON THE OCCASION OF THE LAUNCH OF ITS SELECTION'S LATEST VINTAGE ON THE 11TH OF SEPTEMBER, DOMAINE DE BARONARQUES UNVEILED ITS NEW PACKAGING. ITS DIFFERENT FEATURES REINFORCE THE LINK BETWEEN
DOMAINE DE BARONARQUES AND ITS OWNERS – THE BARONESS PHILIPPINE DE ROTHSCHILD FAMILY, CURRENTLY REPRESENTED BY PHILIPPE SEREYS DE ROTHSCHILD AND JULIEN DE BEAUMARCHAIS DE ROTHSCHILD.
The capsules bear the signature of the Rothschild family: a crown and 5 arrows, and the labels clearly indicate "Vignoble Baron Philippe de Rothschild";
The label's mascaron has been redesigned with elegance: this emblem in the form of a theatrical mask is located on the facade of Domaine de Baronarques. Highlighting the Rothschild family's passion for the performing arts, it watches over the estate and its owners;
The property's name has been slightly changed from Domaine de Baron'Arques to Domaine de Baronarques, the removal of the apostrophe makes it easier to read and pronounce.
This historic property, dating back to the 17th century, was acquired in 1998, under the name of Domaine de Lambert, by Baroness Philippine de Rothschild and her two sons. Since then, its vineyard and installations have been substantially renovated. Domaine de Baronarques is represented by a 43-hectare vineyard situated in the district of Saint-Polycarpe in Aude and the Haute-Vallée winegrowing area. This is the highest terroir in Limoux; at an altitude of 250 and 350 meters, where it benefits from a cooler microclimate. Moreover, the location boasts a rich array of soil types, high densities (7,500 & 4,600 plants/hectare) – and grape varieties – the combination of which, translates to richness and complexity. Drawing on the expertise of the winegrowing specialists at Mouton Rothschild, the vineyard is managed with care and attention to the minutest of details, in view of producing top wines, whether they be red or white.
The wines are elaborated according to prestigious Bordeaux winemaking traditions, under the supervision of Châteaux Managing Director and Baron Philippe de Rothschild Board Chairman, Philippe Dhalluin and under that of Domaine de Baronarques General Manager, Vincent Montigaud.
It has been in the Baroness Philippine de Rothschild family for the past 17 years. With 12 great red and 6 great white wine vintages under its belt, the estate holds its own among the household's other châteaux, alongside Mouton Rothschild, Clerc Milon and Armailhac in Pauillac, Opus One in California and Almaviva in Chile.
AT PRESENT IT CAN CLAIM TO BE A "GRAND CRU"
AND A REFERENCE FOR LANGUEDOC WINES