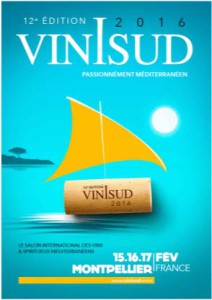 France ‐ Montpellier ‐ Exhibition Centre
15/16/17 February 2016 ‐ 12th edition
www.vinisud.com
MEDITERRANEAN PRODUCERS EXCHANGE WITH THE WORLD!
Located at the heart of the vineyards in the Mediterranean, the largest wine production and export region in the world, VINISUD is the perfect time to discover and rediscover the wonderful diversity of wines from countries around the Mediterranean: France, Italy, Spain, Greece, Lebanon, Tunisia, Morocco…
Over 1,700 exhibitors, small to large scale producers, winegrowers, wineries and wine merchants passionately showcase their terroirs and array of appellations!
At Vinisud, there's no such thing as standardised tastes; buyers from across the globe come to sample new vintages and unearth little‐known quality wines that can often turn out to be real finds!
More than 26,000 product lines to explore at stands
Over 2,500 products to taste and compare at your leisure at the Mediterranean Palace.
February, a prime time for purchasing, with buyers looking to source new products and grow their portfolio! Wholesalers, importers, agents, trading groups, wineries, retailers, restaurateurs, hotels, sommeliers, experts, journalists… they'll all be there.
A total of 30,948 visitors in 2014, including 9,652 from abroad (Europe 72%, overseas 28%) and 74 nationalities.
New development fields
For its 2016 edition, Vinisud is inviting 2 guest regions: Bordeaux and California, laying the foundations for an international exchange with other wine producing regions.
Conference‐tasting led by Jean‐Marc Quarin, independent wine critic specialised in wines of Bordeaux (www.quarin.com): "What do wines of Bordeaux have from the South and what do wines of the South have from Bordeaux?"
New on the visitors' front this year is a focus on the American market, starting with a major delegation of buyers from the USA.
For the first time the Mediterranean Palace, a large self‐service tasting area where buyers can explore over 2,500 products at their own pace, will be centred around 4 major wine categories:
Still wines and spirits classified by country, wine types (PDO, PGI, wines without GI) region and colour
Organic wines classified by country, wine types (PDO, PGI), region and colour
Sparkling wines, classified by country, region
Fortified wines, classified by country, region
Visited by a total of 6,492 visitors and hosted by the French Union of Oenologists, the 2014 Mediterranean Palace was a huge success.
"Mediterranean Expression", an area highlighting Mediterranean's cultural, gastronomy, wine‐growing and geographic heritage, Wine Mosaic invites you to discover:
Rare & original grape varieties from the Mediterranean islands (Sicily, Corsica, Sardinia, Crete etc.),
Wines from volcanic soil terroirs, which are currently enjoying a renaissance: Greece, mainland Italy, Sicily, the Greek islands, France, Spain and California.
In the spotlight this year is Wine tourism, an important tool which helps in exporting regions' economies
André Deyrieux, from www.winetourisminfrance.com, will give a presentation on industry trends and innovations.
New this year, wines packaged in Bag‐in‐Box format will have their own dedicated area, sponsored by Vitisphère, the exhibition's media partner, to help buyers narrow their search.
Showcasing Bag‐in‐Box wine from exhibiting companies along with award winners at from the first ever Wine‐in‐Box competition.