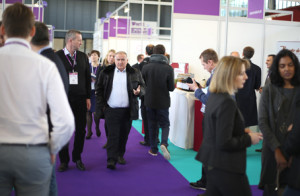 More than 200 companies participated in this trade fair, which focus 85% of the global supply for bulk wine
Amsterdam, 24th of November 2015. The biggest wine fair worldwide in terms of business transactions closed its 7th edition with an increase of 15% in participation. Over the last two days, Amsterdam became the world's wine capital and the major meeting point for the wine industry. Wine-makers, purchasers and professionals from 66 different nationalities gathered together with one goal: to do business.
Protecting quality is one of the mottos of this trade fair, and it is also a commitment shared by more than 200 wineries from 20 countries which took part this year: Germany, Argentina, Australia, Austria, Belgium, Chile, China, the United States, Spain, France, Georgia, Greece, Hungary, Italy, Kosovo, Malaysia, Moldavia, Portugal, South Africa and New Zealand. These countries focus more than 85% of the global supply for bulk wine export.
The Exhibition's Director, Otilia Romero de Condés, expressed optimism regarding the fair's development and the large attendance of sellers and buyers. She has highlighted the steady growth this annual trade fair is experiencing; and she hopes that the effort made by the organizers has helped to ensure profitable transactions for everyone!
This is a wine trade fair and we can't afford to neglect areas as important as debates, talks and tasting sessions. The WBWE is also about all these things:
OFFICIAL CONFERENCES 2015
"New wine scenes: Changes in habits, marketing and commercial strategies"
*Check the program on the website
TASTING SESSIONS: DISCOVERING WINES
Wines from Sicily, Moldavia and the regions of La Mancha (Spain) and Gers (France) have been the key players of the tasting sessions in the World Bulk Wine Exhibition  
*Check the program on the website
VOICE OF WINE – THE COOP LANGUEDOC ROUSSILLON
The Coop Languedoc Roussillon is the winner of this year's Voice of Wine award, a tribute to the continuing effort in promotion carried out by the Languedoc Roussillon region in France and abroad. By delivering the 2015 Voice of Wine award we want to praise the quality and diversity of these wines, produced with the utmost respect for the wine tradition typically associated with this emblematic region of the South of France.
Languedoc Roussillon is the first wine region in France, with 230.000 hectares and 12,4 million hectoliters of production in 2014 , 75% of which are sold in bulk.
The Coop Languedoc Roussillon represents all the wine producers from the area and deals with regional, national and European entities by implementing awareness and support actions with regards to the following:
Development in the face of climate or environmental change.
Economic development strategies, enhancement of wine quality, legal advice, training, employment and land management.
Supporting different cooperatives in their organization, cost effectiveness, and communication as well as in promotion, exports and consultancy.
Voice of Wine is an award created by the World Bulk Wine Exhibition in order to recognize and praise the work carried out by people and groups who defend wine and its values and who fight for this sector which is so important economically, culturally and socially.
SILENT TASTING ROOM
More than four hundred wine samples have been tasted at one of the fair's key areas, where buyers can taste bulk wine selected by the participating wineries. The best opportunity to taste, with freedom and autonomy, the widest range of wines of the entire world.
GOURMET AREA
This area pays homage to wine, once again, through gastronomy. Kike Piñeiro, chef and co-owner of the restaurant A Horta d'Obradoiro, in Santiago de Compostela (Spain), has sought to highlight the true essence of wine: the grape. The 7th WBWE menu journeys across the world´s geography, with seven stops to enjoy the most typical varieties of each region.
Menu:
Scallop with soy mayonnaise and Torrontés (Argentina)
Mussel pâté with mascarpone and Chardonnay (Australia)
Vegetables and Pinotage wine (South Africa)
Smoked eel and mackerel with a veil of Müller Thurgau (The Netherlands)
Cod in Albariño with sesame and mashed purple potatoes in wine (Spain)
Pear in Cabernet Sauvignon flavor (France)
Bread soup with Zinfandel (United States)
THE VINE
All companies devoted to obtaining vineyard products and byproducts of vinification, or to disposing of waste generated by said activities, have a privileged place in this area of the WBWE.
In its second year running, The Vine has gathered more than 30 companies boasting a great variety of products, such as jams (Elasun, Bubub), beauty products (Uvas Frescas, LUVA), gin tonics (Group Grap'Sud), marzipan (Rodi), vinegars (De Nigris), scented candles (Vila Hermanos), functional bio-products for agriculture (Microgaia Biotech), vine shoots (Barbecue & Vigne) and organic grape derivatives (Explotaciones Hnos. Delgado).
This list is a small sample of the great business potential, far beyond wine itself, offered by vineyards and all things related to them.
INTERNATIONAL SCIENTIFIC POSTER COMPETITION
As for the International Scientific Poster Competition organized by The Vine in its second year, many research studies from countries such as South Africa, France, Italy and Spain have been presented.
The wining poster has been: "POTENTIAL APPLICATIONS OF A GRAPE SEED EXTRACT AS ANTIMICROBIAL AGENT IN ORAL HEALTH".