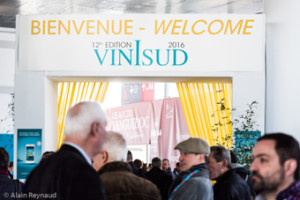 As if to emphasise the show's unique "Passionately Mediterranean" identity, the 12th Vinisud opened its doors to radiant sunshine on February 16 at the Montpellier showground. This year's event has confirmed the Mediterranean wine show's legitimate place amongst the world's top 5 wine trade shows.
Vinisud is more than just a wine show – it embodies the quantum leap in quality that has occurred across the Mediterranean wine regions over the past few decades. The dynamic nature of the wine industry in these regions is reflected in the outstanding expansion of the show. From 400 exhibitors at the first event, Vinisud passed the 1,700 mark for the first time this year.
The 2016 event shows a surge in attendance by foreign exhibitors, numbering 270 compared with 224 in 2014. France also has a strong presence, as evidenced by the stands of the major companies and sizeable institutional stands, including that of the Languedoc appellations and PGI wines, which is the largest ever collective stand built at Vinisud.
Visitor numbers are equally impressive: some 30,000 industry members, including 10,000 international visitors, are expected to attend from February 15 to 17.
The enthusiasm and sales activity were tangible during the first day when the bustling aisles translated the level of visitor attendance.
Vinisud owes its success not only to the wide array of wines on offer but also to the quality of its visitors with many of the world's leading wine buyers present.
Innovation and responding to the needs of the trade were reflected in the dedicated wine areas – this year's newly created Sparkling Zone attracted many visitors, as did the masterclasses. The revisited Palais Méditerranéen with its free-pour tasting of over 2,500 wines is also a high point.
Vinisud is as successful as ever on social media with lots of activity on Twitter and Instagram.
In a single day, the TweetReach broke new records via the official #VINISUD2016 hashtag: nearly 1,500 twitter posts were recorded, reaching 560,000 accounts and 3.77 million prints.
The figures speak volumes about the importance of this digital sounding board, supported by a team of highly committed blog ambassadors.
In the last few hours, the VINISUD Facebook page topped 15,000 fans and the official YouTube website is regularly updated with videos of the major interviews from Vinisud's Web TV.
The first Daily Report can be viewed here: https://www.youtube.com/watch?v=GUnCNJFZdJk
The stage is therefore set for Vinisud 2016 to be a great vintage!