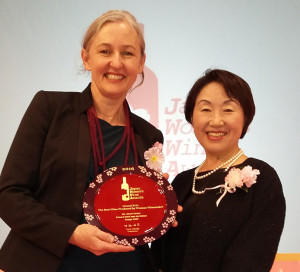 Prieuré Saint Jean de Bébian are very proud of the award received by their winemaker Karen Turner was named "Best Woman Winemaker 2016"
Karen has worked at Bébian since 2004, and is a graduate in Oenology of Adelaide University in Australia. Before joining the team, Karen worked for numerous estates around the world : Brown Brothers (Australia), Hugel (France), Thelema (South Africa), Taylor Fonseca (Portugal), Chapoutier (France), Tenuta di Arceno (Italy), Rosemount (Australia). Karen has consecrated her professional life to the love of wine. Her rich experience obtained in some of the greatest viticultural regions in the world, has helped her to understand numerous terroirs, and to use this knowledge in the wine she has made for Bebian these last 12 years.
"It is an honor to be awarded this prize which brings so much personal merit to 20 years of hard work and passion."
It is Ms Yumi Tanabe (right in the photo), president of the school of Sommeliers in Japan, who created the Sakura uniquely of women.