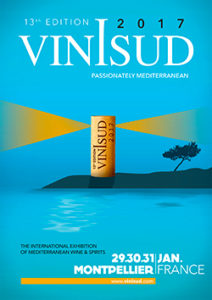 VINISUD, the International Fair for Southern Wines will take place on Sunday29 – Tuesday 31 January 2017 at the Montpellier Exhibition Centre.
3 buzzwords for the 2017 edition: expertise, discovery and sharing
1 ambition: to be the international showcase for southern wines for 3 days
1 motto: "Passionately Mediterranean"
VINISUD EXPERTISE
BtoB meetings: under the impetus of Adhesion Group, the exhibition's organiser and pioneer in scheduling BtoB meetings since 1984, Vinisud 2017 will once again offer exhibitors and buyers a programme of business meeting and networking via an online booking tool.
Buyers programme: Vinisud will guarantee the presence of 400 new international buyers originating from synergistic networks, 200 distributors, importers, major players attending the World Wine Meetings organised by Adhesion Group across 3 markets – America, Europe and Asia, and 200 buyers recruited for the "Forum International d'Affaires" (FIA).
VINISUD DISCOVERY
Unique tasting areas: Vinisud offers buyers an alternative approach by creating themed self-service tasting zones: red, rosé, white, natural sweet, organic wines, Bag-in-Box®, Sparkling Zone… to name but a few.
Mediterranean Expression by Vinisud, rare grape varieties: true to its spirit of openness, Vinisud is renewing its partnership with Wine Mosaic, providing the opportunity to discover rare and unusual grape varieties and promoting another hallmark Mediterranean product, olive oil.
VINISUD SHARING
New Wave winegrowers: an exhibition area dedicated to newborn winegrowers, showcasing the work of the industry's new kids on the block. 2017 will offer a chance to check out the very first vintage of some of these newcomers, celebrating the efforts of all these wine enthusiasts helping to drive the sector forwards by taking the plunge. Apply now; registration is open for the Vinisud New Wave stand!
Vinisud Wine Tourism: an extensive exhibition area hosted in partnership with Winetourisminfrance. com, the wine tourism stand is the ideal location to keep up with the latest trends and developments (mobile apps, interactive maps etc.) and share the joy of an activity typical of wine-growing regions worldwide. In 2017, visitors will be able to explore regional products, with a dedicated picnic area, and reserve accommodation in a winery/estate via the "Vinisud in the Vineyards" booking app, a service designed to consolidate relations between producers and buyers.
With 1,650 exhibitors and 31,000 visitors, which the 28% of them come from abroad (in total 9,000 buyers from 70 different countries in 2016), Vinisud is the leading international tradeshow for wines from the Mediterranean countries and it has a sole objective: to drive sales effectively. With a committed and enthusiastic team, highly focused on action, Vinisud dedicates itself day-in, day-out to serving the needs of everyone involved in the wine industry.