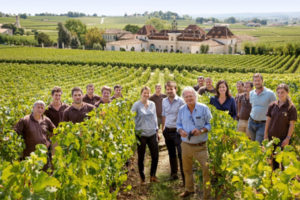 "Le Rayonnant": this is how it has been chosen to name the 2016 vintage, at the very start of the peaceful, à la carte harvest which allows to hope and expect that the new vintage will be wonderful at Angélus.
"Rayonnant" or bright just as the sun who reigned almost unchallenged over the vineyards for the three summer months, just as a vintage that already looks amazing and unique.
***
Three months of a dry summer: an unprecedented event at Saint-Emilion, as far as a winemaker can remember! Even as the flowering went well despite a very abundant rainfall (about 750mm, corresponding to the cumulated rainfall over a full dry year in Bordeaux), fine weather set in right from the last week of June and, extremely rare, has continued till harvest.
The month of July was sunny but rather cool, with cold nights. As at end of July, the ocean temperature was well below usual temperatures for the period. And not a single water drop.
Temperatures have increased in August, with a few days of heatwave, above 35°C. However, the temperature range between night and day has been 1:2 over the entire month, which is highly favorable to the aromatic expression of our grapes and to the maintaining of fruit freshness. To this can be added a near absence of rain, 5 to 8mm, virtually nothing, or just the minimum to enable plant hydration. That's where the very young vines started to suffer. The older vines, notably on clay and/or limestone soil, resisted magnificently well (limestone and clay work like a sponge which captures water in wet periods and releases water during dry periods). In over 35 years, this is also the first year without storms between July 14 and August 15!
In September, the summer heat has persisted: temperatures reaching 28 to 30°C were our everyday conditions. Even though a big storm was announced mid-September, making all the family and staff tremble, the large white and grey clouds eventually changed into a healthy rainfall. 19mm, then 4mm. This welcome rain provided energy, strength and respiration to our vineyard. Then, the nice weather came back again very quickly. The ripening of the tannins has progressed slowly and the first harvest are starting now for the finest wines. The summer nights' freshness have preserved flavours and acidity.
Weather forecast for the next couple of weeks let us envisage a serene, à la carte harvest for a great, surprising and bright 2016 vintage, alike this unbelievable summer which has determined its destiny and shaped its identity.