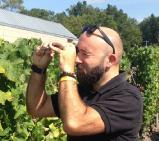 BAS ARMAGNAC, BORDEAUX, GRAVES, MADIRAN, LAUBADE ET DOMAINES ASSOCIÉS
« This year is a bit different, as the time of the harvest was advanced to conserve the freshness of the aromas: from 6 am to 11 am at Chateau de Laubade, from 6 am to 12 am at Chateau Peyros, and from 6.30 am to 11.30  am at Chateau Haut Selve and Le Bonnat», explains Arnaud Lesgourgues.
The harvest began at HAUT-SELVE and LE BONNAT with the white varieties on the 9th of September (Sauvignon gris), followed by reds around the 26th of September (Merlot).
«We were faced with the challenge of managing the heat wave and drought. A new watering system was set up for the young vines, whereas the leaves of the older ones were partially removed on their eastern side. We also protected the white grape harvest with dry ice. For the second year running, a cooler was used in HAUT SELVE, to decrease the temperature of the harvest by 15 degrees, when it arrived in the cellar. This technique has been developed by Rubiconcept, the company supplying the estate with cooling and air-conditioning solutions.
CHÂTEAU DE LAUBADE: no vineyard diseases.
CHÂTEAU PEYROS: no storms; a lack of water, but nothing serious, thanks to some heavy showers, one in July and another in August, brought about by the close proximity to the Pyrenees».
A word about the owners
«It all began when our grand-father, Maurice Lesgourgues, discovered Château de Laubade in 1974 – it was a case of love at first sight! He immediately understood that this property had all the elements to offer the best from Armagnac. We continue to follow the path traced over the past 40 years by our father Jean-Jacques. Our strategy is based upon sustainable agriculture, environmentally friendly growing, traceability and the producing authentic wines from our "terroir". Our mission is to produce wines and armagnacs of the highest quality. We strive to fulfil the desires and the expectations of today's and tomorrow's clients », Arnaud and Denis Lesgourgues.