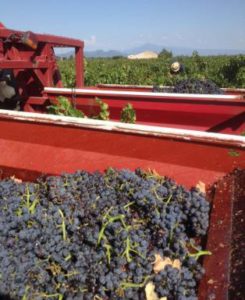 CHÂTEAUNEUF DU PAPE, CÔTES DU RHÔNE, LIRAC, VACQUEYRAS, VIGNOBLES ALAIN JAUME
The harvest began on the 6th of September with the "Syrah" from the Côtes du Rhône "Les Champauvins".
GOOD WEATHER CONDITIONS:
The weather was perfect, with a rainy springtime, followed by a hot and dry summer, accentuated by several windy periods, generated by the Mistral. Rainfall on the 14th of September helped to make up for the lack of water, notably in that which concerns Mourvedre, a late ripening variety. As a result, picking continued through to the end of September, when the harvest more or less ended. "We are lucky as the sanitary conditions were excellent. As a result, they have allowed the berries to perfectly ripen. The objective is twofold this year: that of reaping the rewards of an entire year's work and as a new member of the 7th generation, that of guaranteeing an exceptional vintage," confided Leo's mother, Hélène Jaume.
EXTRA INFORMATION BIGGER AND NEWER IN 2016:
The winemaking premises at Domaine Grand Veneur in Châteauneuf du Pape were extended this year, and the maturing cellars were renovated at Domaine La Grangette Saint Joseph (an estate acquired in 2015) in the Côtes du Rhône area (across from Vacqueyras).
NEW CUVÉE :
We have just rolled out a new Côtes du Rhône wine called Domaine la Grangette Saint Joseph.
In addition, our wine liqueur (Marc) will now bear its vintage of production, in line with the appellation's decree.
A WORD ABOUT THE OWNERS
The Jaume family has passed down the tradition of winegrowing in Châteauneuf-du-Pape from one generation to the next since 1826.
"Every wine elaborated by Alain Jaume & Fils, seeks to extol the finesse and true expression of the terroir of origin".
With the sons, Sébastien (œnologist) and Christophe (commercial development), the family bets in 2003 on the quality potential of another cru neighbor: the Lirac "Clos de Sixte ". Hélène Jaume joined in 2013 the family business after an immersion in the distribution in the USA. They choose to carry on the diversity of terroirs and acquire a new 11 ha domain in appellation Vacqueyras "Château Mazane".